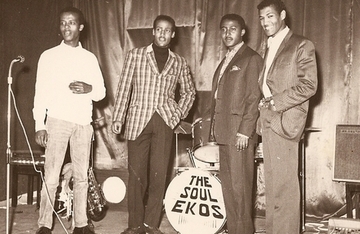 Tadias Magazine
By Martha Z. Tegegn

Published: Thursday, August 12, 2010
Washington, D.C. (TADIAS)- Part two of our exclusive interview with Ethiopian music legend Teshome Mitiku highlights his reasons for his abrupt departure from Ethiopia forty years ago, his favorite song from that era and his experience working with Mulatu Astatke, the father of Ethio-jazz. Teshome is scheduled to accompany the Either/Orchestra at the 32nd Annual Chicago Jazz Festival in September.
You were a teenager when you started performing in clubs. How did your parents feel about that?
My father had already passed away. My mother was very supportive. My mother's only concern was that I continue to go to school, but she never stopped me from playing, just worried about me. She is a great mother. She was a great singer too. She used to sing Bati, Ambasel, Anchi Hoye. Her words and lyrics were poetry and they are very touching. I mean I used to sit and cry as a child when my mother used to sing while she was washing clothes, ironing or cooking. So I guess my mother's emotional singing had an influence on me. My mother was always my friend. As a teenager when I started working in clubs and begun making money, I used to take her to a hair dresser, to a café, piazza, everywhere and whatever she wants I used to buy. My mom always came first for me. So I have always done that, I still do that. She is a beautiful woman with a heart of gold. My mother loves her life, even today she tells me "as long as you are doing good I am happy." What I really appreciate about her is she brought me up as a care-free kid. She allowed me the freedom that I needed. And when I left the country, I thanked her for it.
You left the country abruptly. When did you leave Ethiopia and why?
I left the country on January 27, 1970. The last few years of the 1960s was a very critical time in Ethiopia. Even though the music scene was upbeat, there was also an undercurrent of social discontent. We were not political at all, but we were very popular at the time and people used to come from all corners to watch us. I believe the security people had an eye on us. So, at the end what happened was that we did a show at the Haile Selassie University in Addis Ababa. That was, as I recall, the last major show I did in Ethiopia.
Why so?
Because they made it so, they made it the last time, it wasn't me. When Soul Ekos band was performing at the University, there were about four to five thousand people there. I mean Lideta Adrarash (Hall) was packed; everybody was there. It was a period when students were engaged in open rebellion against the authorities. So the army and the police were there keeping an eye on the kids and the situation. So when we took the stage Seifu Yohannes did the first three songs. And when my turn came and I was warming up to do the usual popular songs, the crowed started to demand that I play Fano Tesemara. I replied "I cannot sing that right now, are you crazy?"
Why? Was it a political song?
Oh yes (laughter), Fano Tesemara was a political song (Fano Tesemara ende Ho Chi Minh ende Che Guevara). Then I said, I can sing it for you but can you handle what's gonna happen afterwards? The kids shouted "yes Teshe come on." And I said to them let me first sing Almaz Min Eda New. They would not have any of it. I mean they were demanding that I sing Fano first. Then I had to speak with the police about it. They were vigilantly watching, the army, the Kibur Zebegna (the imperial guard), all of them were there with their AK-47s. The security was literally on the stage. So I asked the army guy, "what do you want me to do now?" By then the students were already singing Fano Tesemara and they were saying Meret larashu (land to the tiler) and so on. I turned to the the army captain again. He said "Go ahead, you can sing it." The crowd went wild.
You took a chance.
Yes I did, I was allowed to sing it, but that was the end of happy and innocent days for me. I never had any more peace after that. I was continuously harassed, investigated, and was suddenly asked to pay three hundred and fifty thousand Ethiopian Birr in tax. I was shocked. I said what? Then, once I was scheduled to perform at Zula club they came and took me to Sostegna tabia (3rd police station) and kept me for three days with all sorts of fabricated accusations. I had the sense that they were planning to put me away for good. That's when I left Ethiopia.
Where did you go?
I had a visa for Sweden and Denmark, and I went to Copenhagen for a while.
Before we talk about your years abroad, what is your favorite Soul Ekos song from those days?
Woooooooow, wow wow, very hard question…they all hold special place in my life but I think Mot Adeladlogn I love the poetry. It is almost like Romeo and Juliet. It is romantic.
During your brief but illustrious career in Ethiopia, you also worked with several Ethiopian greats, including Mulatu Astatke. What was that experience like?
Working with Mulatu is like having a buffet of music. Mulatu is music himself. I have collaborated with him on many occasions. I worked with him way back in the 60s and later in the 90s here. We did Wolo songs together. I love working with Mulatu. He gives the singer or the artist a chance to express himself. He never competes with you or tries to push you. He always tries to understand the music first. Once he gets it, then he lets you express it. When you work with him it is you who is working. I wish I could work with him more often than I did.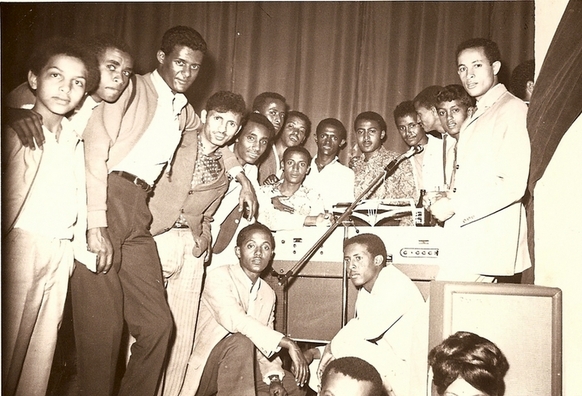 This photo was taken at Bingo Club in Asmara in 1969. Shown third from left is Theodros ( Teddy )
Mitiku, the 9th person is Alula Yohannes and next to him is Teshome Mitiku. (Courtesy photo)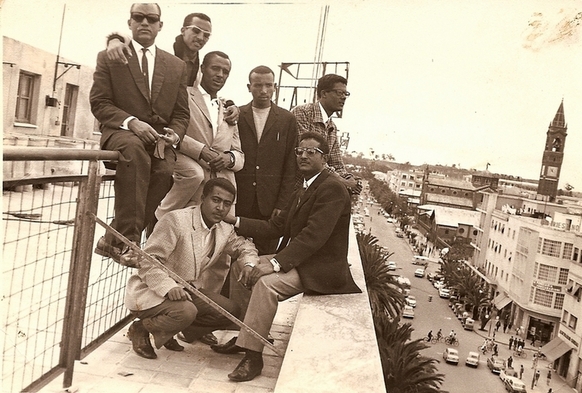 The band members and friends vacationing in Asmara, where they used to play on weekends at
Kangawe Station, an American Military base. Teshome is almost seated. (Courtesy photo.)
–
Related:
Part Three Exclusive: Teshome Mitiku Plans to Return to Ethiopia
Part One: Exclusive Interview With Ethiopian Legend Teshome Mitiku
Listen to Gara Sir Nèw Bétesh – song written by Tèshomé Mitiku and played by Soul Ekos

Join the conversation on Twitter and Facebook.