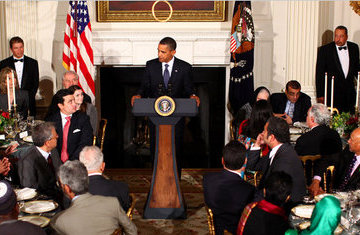 Above: President Obama delivered remarks at a White House
dinner celebrating Ramadan. Photograph: Luke Sharrett/ NYT
News Update
The New York Times
By SHERYL GAY STOLBERG
Published: August 13, 2010
WASHINGTON — President Obama delivered a strong defense on Friday night of a proposed Muslim community center and mosque near ground zero in Manhattan, using a White House dinner celebrating Ramadan to proclaim that "as a citizen, and as president, I believe that Muslims have the same right to practice their religion as anyone else in this country." Read more.
Watch

Visit msnbc.com for breaking news, world news, and news about the economy
Related News
Ramadan Kareem | From President Obama
AFP
Wednesday, Aug 11th
WASHINGTON (AFP) – US President Barack Obama on Wednesday offered best wishes to Muslims in the United States and around the world as they observe the holy fasting month of Ramadan.
"All of us must remember that the world we want to build — and the changes that we want to make — must begin in our own hearts, and our own communities," Obama said in a statement released by the White House.
The US president said he looked forward to hosting a White House Iftar dinner, the meal that breaks the daily fast. Read more.
Video: President Obama's video Ramadan Message from 2009