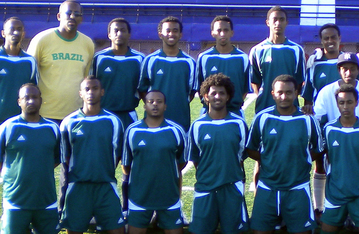 Above: Team Abay has been described "Built New York Tough"
The group is one of 27 teams taking part at 27th annual Ethio
Soccer Tournament in San Jose, California. (Photo: TsehaiNY)
Tadias Magazine
Events News
Updated: Monday, June 28, 2010
New York (Tadias) – Ethiopians from across the U.S. are gathering in the Bay Area this week for the 2010 Soccer tournament – an event which also doubles as an annual cultural festival for the community.
The California festivities, which opened at San Jose State University's Spartan Stadium on Sunday, features over 27 teams from various cities in the U.S. and Canada.
The annual gathering – which this year celebrates its 27th anniversary – goes far beyond sports entertainment, allowing families and friends in North America's Ethiopian immigrant community to come together in celebration of both sports and their cultural heritage. The tournament week is a popular time for networking, alumni gatherings, small business catering, music performances, and reunion parties.
Stay tuned for our usual "Hot Shots" and other events coverage from San Jose.
—
Related:
Toronto Says It Has What It Takes to Host the Ethiopian Soccer Tournament (Tadias)
Ethiopians gather in San Jose for soccer, festival and food (San Jose Mercury News)
Ethiopian American organizations assist ESFNA earn recognition in California (EthioMedia.com)
Team Abay, Built New York Tough! (Tsehai.NY.com)
ArifQuas – iPhone Application For The 2010 Ethiopian Soccer Tournament (Tadias)
Photos from Chicago: Ethiopian Soccer Tournament 2009 (Tadias)