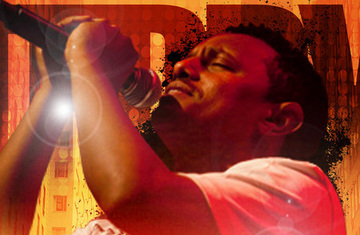 Tadias Magazine
Events News
Updated: Tuesday, July 6, 2010
New York (TADIAS) – Teddy Afro, Ethiopia's biggest pop star, will perform in New York city next week.
The singer – who made an appearance at a sold-out concert in the Bay Area during the recently concluded 2010 Ethiopian Soccer Tournament – will stage a show in Manhattan on Saturday, July 17th at 630 Second ave, bet 34th and 35th streets.
Afro, born Tewodros Kassahun, is known as Ethiopia's Bob Marley, mostly for his socially conscious lyrics and his incorporation of roots-reggae rhythms into his version of Ethiopian grooves.
He kicked off his American tour last fall in Washington, D.C.
If You GO:
Masinko and Addis Zemen Ent. present Teddy in NYC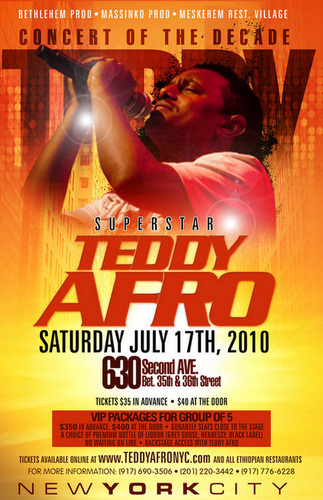 Featuring DJ Mehari!
Sat, July 17th, 2010
630 Second ave, bet 34th and 35th Sts.
Advance tickets are $35, $40 @ the door.
VIP Package For A Group of 5 is Also Available
VIP = No waiting in line and includes bottle & table service.
VIP TIX: $350 in advance ($70 per person) or $400 @ the door.
If you're interested in buying tickets or ordering the VIP package, please call 646-436-3022.
Related videos and photos from past events:
Video: Teddy Afro Pays Tribute to Legendary Singer Tilahun Gessesse in DC (2010)

Video: Teddy Afro Concert 2010 in DC (Posted by Milliano Promo)

Slideshow: Teddy Afro concert at the DC Armory (Saturday, January 2, 2010)