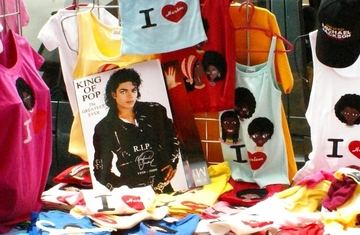 Update: Here is more on the event from Addis Fortune in
Ethiopia: Local NGO Organizes Event to Celebrate Michael's
Life (Read More).
Tadias Magazine
Tadias Staff
Published: Tuesday, July 7, 2009
New York (Tadias) – Good Will for Ethiopia, a Virginia based non-profit organization that operates poverty reduction programs in Addis Ababa, is planning a celebration to honor Michael Jackson and his humanitarian contributions to Ethiopia, organizers announced.
"We, the students of Good will for Ethiopia, want to recognize and celebrate his life…he was indeed a humanitarian who raised attention to poverty through his songs: "We Are the World," and "Man in the Mirror," and his USA For Africa project," the group said in a statement.
"We are the World raised awareness towards famine and poverty in Ethiopia. Michael wrote the song and gathered many stars to make it happen. Michael Jackson's sudden death shocked us all in Ethiopia."
The event is scheduled for Sunday, July 12th 2009, from 2pm to 7pm at the Exhibition Hall, behind Meskel Square.
For information, contact: Ms. Aster Dawit at adawit@goodwillforethiopia.org. Phone: +09-11-216732 or +09-11-315610
Related: Michael Jackson: What I wish he'd known
Examiner
By Michael McGuire
(With 30 years of experience in journalism, Michael McGuire has been a newspaper and financial editor, entertainment writer and online services coordinator. He can be reached at michaelmcguire@charter.net.)
In 1985, Michael Jackson and Lionel Richie wrote a song that was to reach the No. 1 spot in about 21 countries. "We are the World" was intended to raise money for and awareness of famine in a number of African nations, with a particular emphasis placed on Ethiopia. A grand concert was to follow later to raise more money. I believe I was able to part with five bucks and wished there was more I could do but it was not possible, at the time. The song and Live Aid remained in my thoughts for many years and, in 1996, my wife and I adopted two little girls from Ethiopia. I frequently find myself feeling I have learned more about life from them than they have learned from me. They are the fulfillment of our lives.
Read more.
"We Are The World"

Michael Jackson with Slash – Black Or White (Live)

Related:
The Song Michael Jackson Co-wrote to Benefit Ethiopia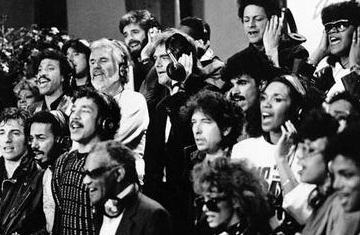 Above: To raise money for the 1984-1985 famine in Ethiopia,
45 popular singers collaborated to record the charity single
"We Are the World", co-written by Michael Jackson and
Lionel Richie. They included Harry Belafonte, Stevie Wonder,
Ray Charles, Bob Dylan, The Pointer Sisters, Kenny Rogers,
Diana Ross, Smokey Robinson, Paul Simon, Tina Turner and
many more. (Photo: United Support of Artists for Africa)
Tadias Magazine
By Tadias Staff
Published: Monday, June 28, 2009
New York (Tadias) – The painfully wrenching images of hungry children, which invaded living rooms around the world in the mid 80′s, prompted Bob Geldof and Midge Ure to organize the 1985 Live Aid concert and 'raise funds for famine relief in Ethiopia'. The multi-nation event, which showcased some of the biggest names in the music industry, included Michael Jackson, who co-wrote the project's signature song "We Are the World" along with Lionel Richie.
The song was recorded on the night of January 28, 1985, following the American Music Awards.
Michael Jackson skipped the A&M Studios ceremony in Hollywood, California in order to prepare the song track as a guide for the rest of the singers, whom he helped persuade to participate in the charity concert. The documentary " We Are the World: The Story Behind the Song" , described by the New York Times as a film "which examines how the song was written, how producer Quincy Jones and songwriters Michael Jackson and Lionel Richie persuaded some of the most popular performers in America to donate their services to the project…," highlights Michael Jackson's important contribution to one of the biggest people-to-people humanitarian projects focusing on Africa. Participating artists included: Stevie Wonder, Bob Dylan, Diana Ross, Kenny Rogers, Tina Turner, Ray Charles, Harry Belafonte, Bob Geldof, and many more.
A quick search in Wiki about the song reveals an intense moment of artistic conflict during rehearsal:
"The dispute started when Stevie Wonder announced that he would like to substitute a line in Swahili. After a few rehearsals, a full-fledged creative conflict broke out. Geldof pointed out that Ethiopians do not speak Swahili. Michael Jackson then proposed to keep his original line "Sha-lim sha-lingay" but after a few rehearsals, it too ran into opposition, because it does not have a meaning. Eventually Al Jarreau cried, "We can make a meaning" and came up with "One World, our word" which was changed one last time in "One world, our children."
The following two part video gives behind the scenes look at the project.