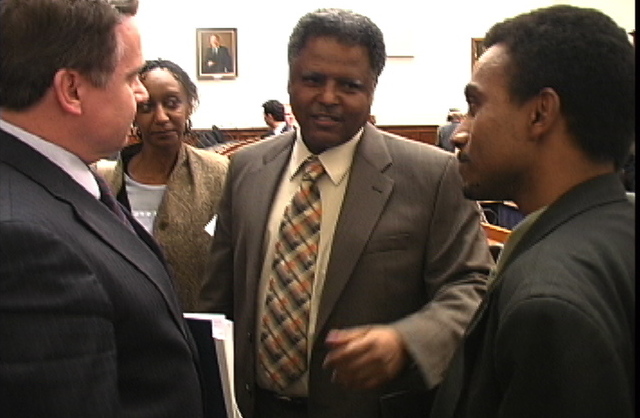 The Washington Post | By Associated Press
July 7th, 2014
KAMPALA, Uganda — Human Rights Watch says an exiled Ethiopian opposition leader who was recently deported from Yemen to Ethiopia is at risk of abuses including torture.
In a statement Monday, the rights group urged Ethiopia's government to ensure the safety of Andargachew Tsige, the secretary-general of a banned Ethiopian opposition group called Ginbot 7.
Andargachew was convicted and sentenced to death in absentia in separate trials in Ethiopia in 2009 and 2012, but Human Rights Watch says he should be given a fair trial.
Yemeni authorities arrested him last month while he was in transit on a flight from Dubai to Eritrea and then deported him to Ethiopia.
Human Rights Watch said last year that Ethiopian authorities torture members of opposition groups and journalists detained in the capital, Addis Ababa.
—
Related:
Yemen Extradites Exiled Ethiopian Opposition Chief, British Citizen, to Ethiopia (AFP)
Ethiopia Ginbot 7 leader facing death penalty 'extradited from Yemen' (BBC News)
UK Stands Accused Over Extradition of Ethiopian Opposition Leader (The Guardian)
Ethiopia Asks Yemen to Extradite Activist (Al Jazeera)
Leading Ethiopian Opposition Figure Detained in Yemen (Yemen Times)
Join the conversation on Twitter and Facebook.