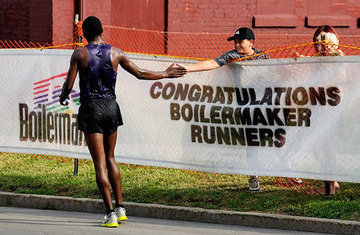 Above: A young boy congratulates an early finisher during the
Boilermaker 15K Run in Utica Sunday – By The Post-Standard.
Running Examiner
By Jessica Cickay
July 12, 2010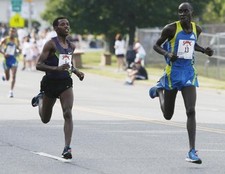 Lelisa Desisa and Peter Kirui (Examiner)
The results of the 2010 Boilermaker 15k in Utica, New York on Sunday, July 11 proved to be record-breaking, as both the men's and women's course records were conquered by top finishers. The fastest Boilermaker 15k in history was won by Lelisa Desisa of Ethiopia in 42:46, while Edna Kiplagat of Kenya made her fast feet known with a win and new 47:57 course record result. Read more.
Video: Boilermaker 15k Road Race First Runners Cross the 10k Line 2010 – Utica, New York