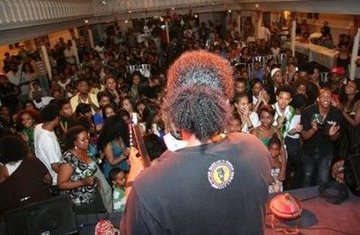 Above: Photo from the 2008 Selam Youth Festival. Follow this
event on Facebook.
Tadias Magazine
Events News
Published: Monday, July 13, 2009
New York (Tadias) – The award-winning Ethiopian film Guzo and Grammy-nominated singer Wayna will be featured at the 5th Annual Selam Youth Festival from July 17th – 19th, 2009 in Toronto, Canada.
The annual festival, organized by a group of artists including the artistic director Weyni Mengesha, aims to empower Ethiopian and Eritrean youth in Canada through education in the arts to raise awareness about the growing number of HIV cases in both communities. Per the event's flier, the festival showcases spoken word, dance, film, theater, hip-hop and more.
Selam Youth Festival from soundthehorn on Vimeo.
The film Guzo, which won best picture at the 2009 Addis International Film Festival, chronicles the interaction between two young residents of Addis Ababa and their peers in the Ethiopian countryside. Over the course of 20-days both the urbanites and country folks were forced to confront stereotypes about each other and grapple with issues of gender and privilege. The film made its U.S. premiere in Washington D.C. on May 9th at GMU's Lisner Theater.
View photos from Guzo's Premier in Washington D.C.

If you go:
5th Annual Selam Youth Festival
From July 17th – 19th, 2009
104 Cedarvale Avenue
Toronto, ON, M4C 4J8
Phone: 416 690 8005