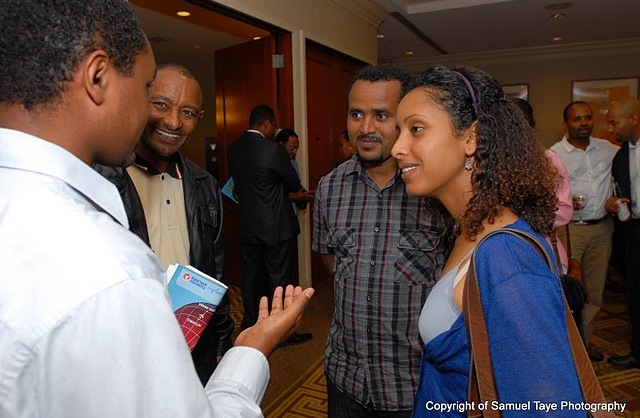 Tadias Magazine
Events News
Published: Monday, July 15, 2013
Washington DC - (TADIAS) – The 8th Annual Ethiopian Diaspora Business Forum will be held on July 27, 2013 in Washington D.C., to discuss business and investment opportunities in Ethiopia, as well as to award and honor pioneering entrepreneurs from the community.
Organizers of the annual conference announced that the 2013 event will focus on "Investing in Agri-business: Opportunities and Challenges for Diaspora Investors."
"Specifically, the Forum will discuss specific investment opportunities in agri-business, agro-processing and financing and value chain development opportunities in select subsectors," organizers said in a statement.
In addition, the forum this year features an agri business concept competition and the winning teach will be rewarded with a round trip ticket to Ethiopia and technical support from the Forum and its sponsors as well as "participate in a USAID-funded matching grant program to support investments in select agricultural value chains."
The 2013 Ethiopian Diaspora Pioneer Businessperson Selection Committee is currently accepting nominations from the public and will announce the awardee by July 19, 2013. It was to be recalled that last year the Pioneer Ethiopian Diaspora Business Person award was shared by Ato Tadiwos Getachew Belete, founder and CEO of Boston Partners PLC, and Ato Zemedeneh Negatu, Managing Partner of Ernst & Young Ethiopia & Head of Transaction Advisory Services (Corporate Finance) Eastern Africa Ernst & Young LLP.
"The Forum and Awards Event will highlight the work of the Ethiopian Diaspora entrepreneurs and various business and investment opportunities available for Diaspora businessmen and women," said Yohannes Assefa, Founder and Executive Director of the yearly gathering.
The Ethiopian Diaspora Business Forum is organized by The Ethiopian American, a Virginia based Ethiopian Diaspora business and investment group.
—
If You Go:
8th Ethiopian Diaspora Business Forum & Awards Dinner
Date: July 27, 2013
Place: Jack Morton Auditorium, George Washington University
Attendance is by registration.
Please register at www.theethiopianamerican.com.
—
Join the conversation on Twitter and Facebook.