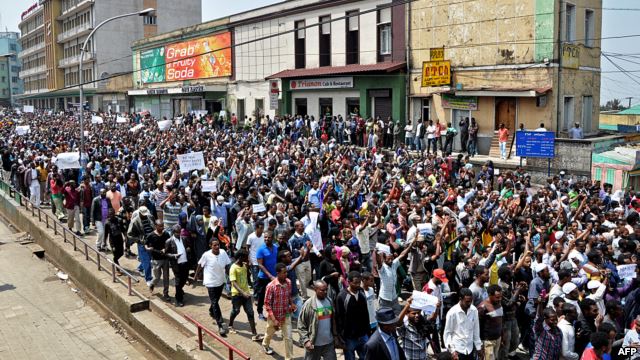 ADDIS ABABA (AFP) – Ethiopian opposition activists on Sunday demanded the release of journalists and political prisoners jailed under anti-terror legislation in demonstrations in two major towns.
In rare public outpours of anger, people marched peacefully in the towns of Gondar and Dessie, chanting "freedom" and carrying pictures of jailed politicians and journalists.
Government officials said there were around 1,500 protesters in total in both towns, while the activists themselves claimed the number to be as high as 20,000.
"The protests were peaceful and successful," said Senegas Gidada, protest organiser and chairman of the Unity for Democracy and Justice Party (UDJ) party.
"We are unhappy about the lack of human rights and democratic freedom in Ethiopia," he added.
The demonstrations follow a rally last month in the capital Addis Ababa when several thousand activists demanded the government adhere to basic human rights.
The recent rallies are the largest since post-election violence in 2005 resulted in 200 people being killed and 30,000 arrested.
Read more at FOX news.
—
Join the conversation on Twitter and Facebook