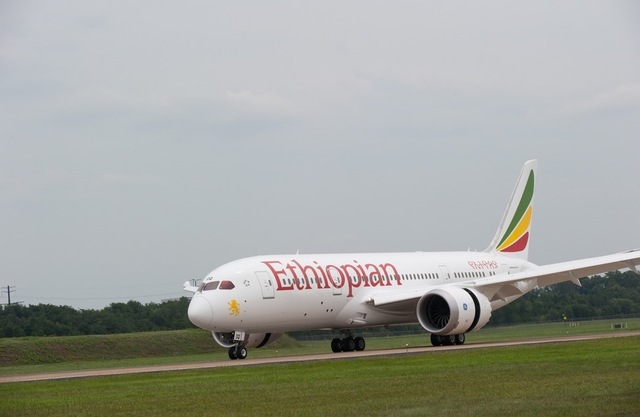 Tadias Magazine
By Dagnachew Teklu

Updated: Monday, July 15, 2013
Washington, D.C. (TADIAS) – Ethiopian Airlines plans to file an insurance claim after one of the company's 787 Dreamliners caught fire while parked at London's Heathrow airport on Friday.
Tadias Magazine has learned that the demand for financial compensation could be worth millions of dollars and will be made as soon as the inquiry led by UK's Air Accidents Investigation Branch of the Department for Transport is completed.
"The insurance claim will include damage to the aircraft and other losses," a source told Tadias on condition of anonymity because the person was not authorized to speak to the media.
The official indicated that the airline is closely monitoring developments in London, but it is not yet clear to whom the insurance request will be made.
The British regulator said in a statement on Saturday that its initial investigation show damage to the upper part of the aircraft's fuselage, but they do not believe that it was caused by battery problems. "At this stage there is no evidence of a direct causal relationship," the press release said, referring to the blaze and the batteries.
Ethiopian Airlines had temporarily grounded its 787 Dreamliners earlier this year for inspection following a safety warning issued by the U.S. Federal Aviation Administration (FAA) to address the risk of battery fires.
In London, the Ethiopian Boeing jet was empty and parked at a remote corner of the airport last Friday at the time the fire broke out. And there were no reported injuries. "As you know investigation is still being carried out," the source said, speaking about the accident at Heathrow.
In an email response to Tadias Boeing said "we do not publicly discuss the contents of any discussions we may have with our customer." The Boeing spokesperson said the aerospace corporation has been asked to participate as an advisor to the investigation and has a team on the ground working in support of authorities. "Protocol dictates that all publicly released information concerning the investigation must come from, or be approved by, the AAIB," Boeing said.
The probe, which is underway inside a special hangar at the London airport, is being conducted by England's Air Accidents Investigation Branch (AAIB), the American Federal Aviation Administration (FAA), the US-based National Transportation Safety Board (NTSB), The Boeing Company and Ethiopian Airlines.
Ethiopian owns four B787s and is the only African carrier that operates the Dreamliner fleet. According to Airframes.org the airline took delivery of the damaged plane, nicknamed the Queen of Sheba, in late November of 2012.
—
Dagnachew Teklu is a freelance journalist based in Washington, D.C.
–
Related:
Dreamliner Fire Probe Confirms Looking at Honeywell Part (Reuters)
Heathrow Fire: Ethiopian Airlines to Go on Flying 787 Fleet (BBC News)
Ethiopian Airlines Boeing Dreamliner Catches Fire at Heathrow Airport (The Chicago Tribune)
—
Join the conversation on Twitter and Facebook.