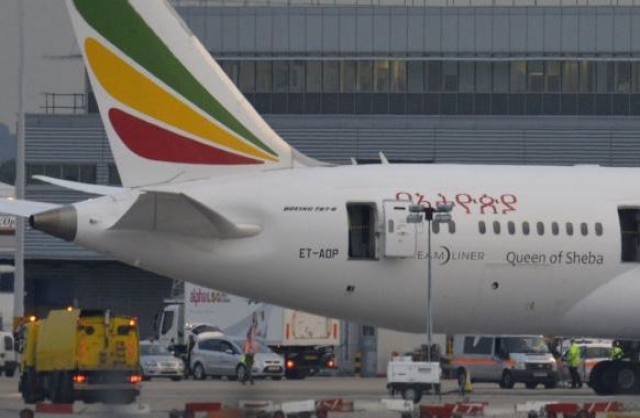 Reuters
July 16, 2013
LONDON — British investigators said on Tuesday a transmitter made by U.S. firm Honeywell was one of several components that may have caused a fire on a Boeing Dreamliner in London last week.
"We can confirm that Honeywell have been invited to join the investigation," a spokesman for Britain's Air Accident Investigations Branch (AAIB) said on Tuesday.
"The emergency locator transmitter [ELT] is one [of] several components being looked at in detail as part of the investigation and it would be premature to speculate on the causes of the incident at this stage."
Britain's AAIB is leading the probe into a blaze on an Ethiopian Airlines jet that broke out last Friday and has already allayed fears about a return of problems with overheating batteries that grounded the Dreamliner for months earlier this year.
A source familiar with the probe told Reuters on Monday that investigators were now looking into whether the fire, which occurred at London's Heathrow airport, was caused by the battery of an ELT built by Honeywell.
Honeywell said at that point only that it had joined the investigation into the fire, declining to discuss details beyond saying it had no previous experience of difficulties with this type of transmitter. The company's British spokesman was not immediately available for comment.
The ELT, which is positioned in the upper rear part of the new airline, sends a signal that leads rescuers to downed aircraft. It is powered by a non-rechargeable lithium-manganese battery.
The AAIB, which is leading the probe into the fire, said on Saturday it found no evidence the fire was caused by the lithium-ion batteries that were implicated in the 787′s grounding earlier this year.
But the focus on the emergency beacon raised alarms for some analysts, who said more technology problems with the new, high-tech airliner would be troubling.
"It's good to see the AAIB are getting closer to finding out what happened but what we really need to know now is if this is a one off or a problem for the whole Dreamliner fleet – that is the crucial point for Boeing and airlines," said Howard Wheeldon, an aerospace analyst at Wheeldon Strategic Advisory.
The Dreamliner in question has been moved to a hangar at Heathrow where it is under technical investigation.
Read more at VOA News.
—
Related:
Ethiopian Airlines to Seek Insurance Claim for Dreamliner Fire (TADIAS)
Heathrow Fire: Ethiopian Airlines to Go on Flying 787 Fleet (BBC News)
Ethiopian Airlines Boeing Dreamliner Catches Fire at Heathrow Airport (The Chicago Tribune)
—
Join the conversation on Twitter and Facebook.