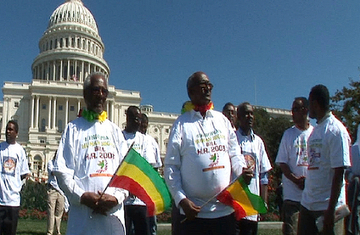 Above: Still image from "Migration of Beauty" showing
protesters in D.C. (Courtesy of SandyBeagle Productions).
Tadias Magazine
By Tadias Staff
Published: Thursday, July 16, 2009
New York (Tadias) – In May 2010 Ethiopians will once again be heading to the polls, and Filmmaker Chris Flaherty has released his film, Migration of Beauty, just in time for us to reflect on the aftermath of the 2005 elections.
Flaherty, whom we interviewed last May, has spent time examining how Ethiopian Americans reacted to the violence that erupted following the controversial 2005 national election. Flaherty had originally intended to focus on the achievements of Ethiopian Americans, but later decided to focus on a feature length film that captures the Ethiopian-American experience of political participation in America in comparison to Ethiopia.
Migration of Beauty is scheduled to be shown at the 2009 African Diaspora Film Festival (ADFF) in New York City in August and November. The ADFF is a 17-day festival featuring over a 100 films focusing on the diversity of the global African diaspora experience.
Here are more still images from the film, courtesy of SandyBeagle Productions.

Congressman Donald Payne persides over a hearing to mark up HR 2003.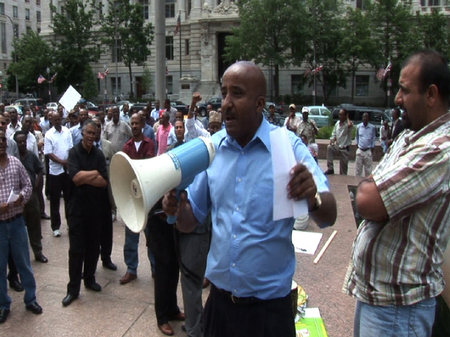 Abdul Kamus, one of the characters featured in the film.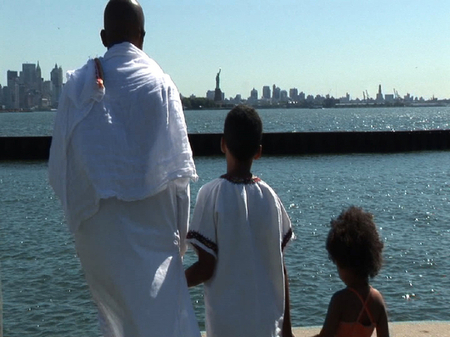 Abdul Kamus visits the Statue of Liberty with his children.