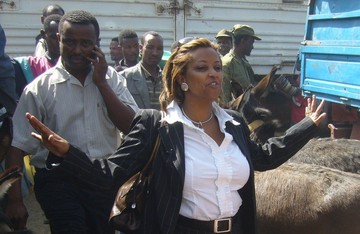 Tadias Magazine
By Tadias Staff
Published: Thursday, July 16, 2009
New York (Tadias) – Dr. Eleni Gabre-Madhin, CEO of the Ethiopian Commodity Exchange, is being featured in a PBS documentary hosted by Aaron Brown on July 22nd 10pm EST.
Brown recently visited the newly opened exchange, and asserted that if this project, the first of its kind in Africa, succeeds, then it can serve as a model for the rest of the continent.
Dr. Gabre-Madhin completed her undergraduate studies at Cornell University and her doctorate in Economics at Stanford University before embarking on her vision to create Ethiopia's first commodities exchange. Crop failures and recurrent famines prompted Gabre-Madhin to focus on food security and improving buyer/seller communication in rural agricultural communities in Ethiopia.
Having followed Dr. Gabre-Madhin's work over the course of the exchange's first year, Brown notes that despite the global economic downturn, several key milestones have been achieved. "It is really the story of one person's vision and how tenacious she has been, the sacrifices she has made, the intelligence she has applied, to feed a country," Brown says.
Tune in to watch the PBS feature on Gabre-Madhin entitled "The Market Maker" on July 22nd.
———-
The film will be screened on Friday, July 24th at the Four Points by Sheraton in Washington DC (12th & K), followed by a brief speech by Aaron Brown and Dr. Eleni Gabre-Madhin. Attendance is by RSVP. Please contact Hanna Tadesse at: hanna.tadesse@gmail.com.