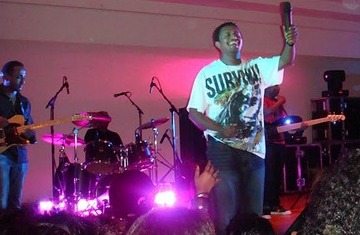 Tadias Magazine
Events News – Photos by Kidane Mariam
Published: Monday, July 19, 2010
New York (Tadias) – Teddy Afro celebrated his 34th birthday during his sold-out show in New York this past weekend.
The artist, who treated the audience to a spectacular show on Saturday night, was greeted by his adoring fans with a chorus of "Happy Birthday" as he kicked-off his concert after midnight. Organizers say between 800 – 1,000 people attended the event. A number of people also stood outside unable to find tickets.
Teddy Afro kept his audience rocking for over three hours with powerful renditions of his iconic songs and his trademark message of love and unity: Fiqir Yashenifal – Amharic for "love wins."
Ethiopia's biggest pop-star also took the opportunity to introduce the founders of Color Heritage Apparel, which specializes in Reggae and Ethiopian wear, and announced a possible collaboration to develop a Teddy Afro clothing line down the road. Winston Jack, the head of the fashion company tells TADIAS that they are exploring the idea but nothing is finalized yet. "It is still in the early stages of discussion," he said. "We will announce it through a press release when it happens."
Here are a few images from Teddy Afro's concert in Manhattan, which took place at 630 Second Ave. on July 17, 2010.