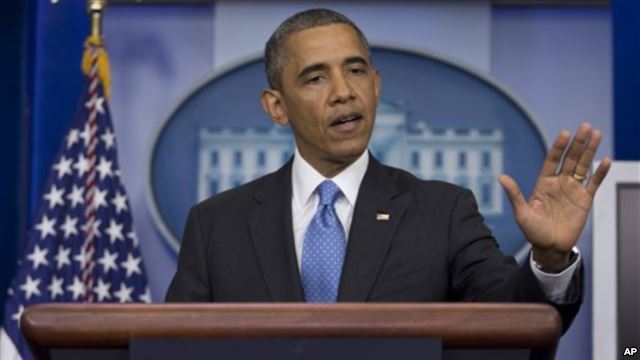 The New York Times
By MARK LANDLER and MICHAEL D. SHEAR
WASHINGTON — President Obama, making a surprise appearance on Friday in the White House briefing room to address the verdict in the Trayvon Martin killing, spoke in personal terms about the experience of being a black man in the United States, trying to put the case in the perspective of African-Americans. They were Mr. Obama's most extensive comments on race since 2008, and his most extensive as president.
Read more at The New York Times.
Watch: Video of Obama's Complete Remarks on Race (July 19, 2013)

VOA News
July 19, 2013
President Barack Obama has called on Americans to do some "soul-searching" in response to the not guilty verdict in the trial of a man who shot an unarmed African-American teenager to death.
In a surprise appearance Friday before reporters at the White House, Obama said he is considering steps the nation might take to help it move in a positive direction in the wake of the racially charged case.
The teen, Trayvon Martin, was killed in February of last year after a struggle with a Hispanic neighborhood watch volunteer, George Zimmerman. Zimmerman was acquitted this month of murder charges.
The acquittal has spawned protests across the country, and the Justice Department is reviewing whether federal charges should be brought against Zimmerman.
The president said when thinking about the pain involved, it is important to recognize that the African-American community is looking at the issue through a set of experiences and a "history that doesn't go away."
Obama noted that when the shooting happened, he said Trayvon could have been his son. He said Friday another way of saying that is that Trayvon Martin could have been him, 35 years ago.
"There are very few African-American men in this country who haven't had the experience of being followed when they were shopping in a department store. That includes me," said Obama. "There are very few African-American men who haven't had the experience of walking across the street and hearing the locks click on the doors of cars. That happen[ed] to me, at least before I was a senator. There are very few African Americans who haven't had the experience of getting on an elevator and a woman clutching her purse nervously and holding her breath until she had a chance to get off. That happens often. And I don't want to exaggerate this, but those sets of experiences inform how the African-American community interprets what happened one night in Florida."
The president said he is looking into ways to examine state and local laws to see if they encourage confrontations like the one in Florida. He said it also would be productive for federal, state and local governments to work with law enforcement on training to address racial profiling and reduce mistrust in the system.
He said the nation needs to think about how to bolster and reinforce African-American boys, who, he said, are disproportionately victims and perpetrators of violence. He said they need help to feel they are a full part of society and have pathways to success.
Obama said families, churches and workplaces might be the best places for honest discussions on race, but he said it is not particularly productive to have politicians lead those talks. He also encouraged individuals to ask themselves if they doing their best to eliminate bias in themselves.
Quoting deceased anti-discrimination leader Martin Luther King, he said Americans should judge one another not on the color of their skin, but on the content of their character.
Obama, the first black American president, also noted positive changes in the country, saying he does not want the nation to lose sight of the fact that "things are getting better."
Describing his own daughters and their interactions with friends, he said, "They're better than we are. They're better than we were."
—
Read more news at VOA.
Join the conversation on Twitter and Facebook