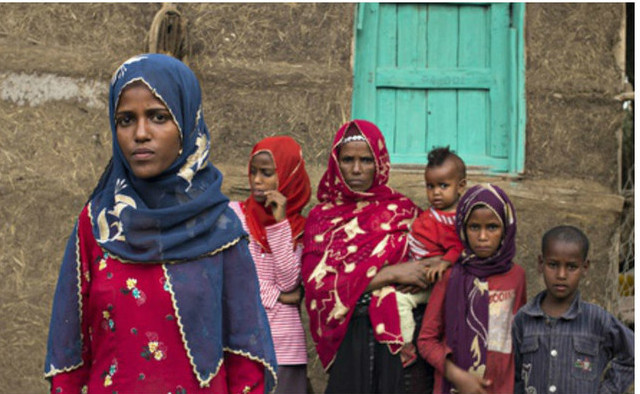 By David Smith
Monday 21 July 2014
Up a bumpy, winding dirt track in the mountains of northern Ethiopia, past two bulls chewing pasture and a rondavel built from sticks and cow dung, is the modest home of Lubaba Abdella, its mudbrick walls reinforced by eucalyptus bark and topped by a corrugated roof.
Abdella has lived a lifetime, yet she is still in her teens. She dropped out of school, married, divorced three months later and emigrated illegally so she could cook and clean for a family in Saudi Arabia, earning money to support her parents and eight siblings. Now she is home and back to square one.
Three-quarters of girls in the Ethiopian region of Amhara become child brides like Abdella, according to the London-based Overseas Development Institute. Many also join the so-called "maid trade": up to 1,500 girls and women leave the east African country each day to become domestic workers in the Middle East. A study has shown for the first time how these pernicious trends feed off each other.
In Ethiopia's Muslim communities it is often deeply shameful or "sinful" for girls to remain unmarried after they begin menstruating, notes the ODI. But once girls are married and sexually initiated, parents consider their social and religious obligations complete.
The thinktank's researchers in Amhara found it was therefore becoming common for parents to insist on marriage followed by a swift divorce so that their daughter was free to migrate and send her earnings home to her parents, rather than her husband. The fact a girl had already been "deflowered" meant she was seen as less likely to be disgraced by foreign men. "It's a question of virtue and virginity," one local researcher said. "Better to lose it in a dignified way."
Read more at The Guardian »
—
Join the conversation on Twitter and Facebook.