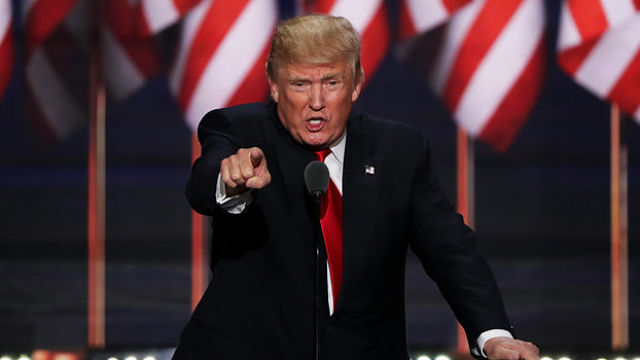 CLEVELAND — Donald John Trump accepted the Republican presidential nomination on Thursday night with an unusually vehement appeal to Americans who feel that their country is spiraling out of control and yearn for a leader who will take aggressive, even extreme, actions to protect them.
Mr. Trump, 70, a New York real estate developer and reality television star who leveraged his fame and forceful persona to become the rare political outsider to lead the ticket of a major party, drew exuberant cheers from Republican convention delegates as he strode onto the stage of the Quicken Loans Arena and delivered a speech as fiery as his candidacy.
With dark imagery and an almost angry tone, Mr. Trump portrayed the United States as a diminished and even humiliated nation, and offered himself as an all-powerful savior who could resurrect the country's standing in the eyes of both enemies and law-abiding Americans.
"Our convention occurs at a moment of crisis for our nation," an ominous-sounding Mr. Trump said, standing against a backdrop of American flags. "The attacks on our police, and the terrorism in our cities, threaten our very way of life. Any politician who does not grasp this danger is not fit to lead our country."
Mr. Trump nearly shouted the names of states where police officers had been killed recently, as the crowd erupted in applause, and returned repeatedly to the major theme of the speech: "Law and order," he said four times, each time drawing out the syllables.
—
Related:
Social Media Reacts to Trump's Speech With #TrumpSpeechInFourWords
Donald Trump's dark speech to the Republican National Convention, annotated
Former George H.W. Bush Speechwriter Calls Trump's RNC Speech 'Very Dark And Frightening'
Ted Cruz Defies GOP, Won't Endorse Trump, Is Gangsta (The Root)
Trump's Wife Melania Accused of Plagiarizing Michelle Obama's 2008 Speech
Join the conversation on Twitter and Facebook.