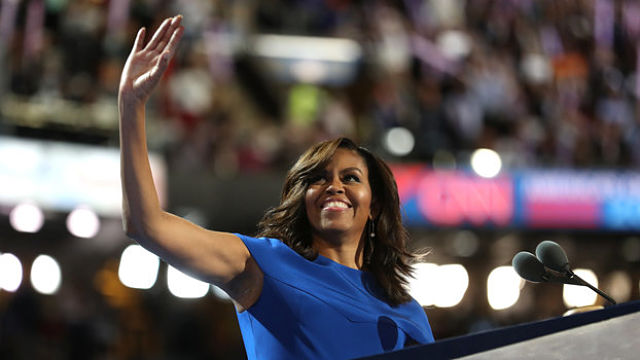 Updated: July 25, 2016
PHILADELPHIA ― First lady Michelle Obama on Monday asked Americans to decide who they want serving as a role model for their children ― Donald Trump or Hillary Clinton.
This election, Obama said during her speech at the Democratic National Convention, "is about who will have the power to shape our children for the next four or eight years of their lives."
The crowd waved purple signs that read simply, "Michelle."
Obama made clear that this election will determine who will give hope to the next generation, or instill fear.
"Every word we utter, every action we take, we know they are watching," Obama said. "We as parents are their most important role models."
That responsibility, Obama said, carries into her role as first lady, and her husband's job as president
"We know that our words and actions matter not just to our girls, but to children across this country," she said.
Taking a jab at Trump and others who have questioned the president's citizenship and his faith, Obama repeated the advice she and the president have shared with their children.
"When someone is cruel or acts like a bully, you don't stoop to their level," she said. "No, our motto is: 'When they go low, we go high.'"
Watch: First Lady Michelle Obama Addresses the Democratic Convention in Philly
—
Related:
On Their Convention's Eve in Philly, Democrats Bedeviled Anew by Email Scandal (AP)
Bernie Sanders Backers March Against Hillary Clinton in Philadelphia (NY Times)
Discord, Email Scandal Taint Eve of Democrats' National Convention in Philly (VOA News)
Watch: Clinton Picks Virginia Sen. Tim Kaine for VP:
Join the conversation on Twitter and Facebook.