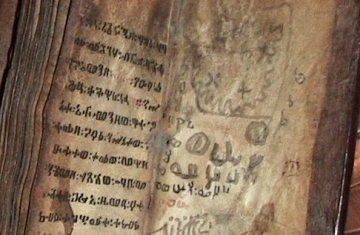 Ethiopian prayer book sells for £32k at auction (Advertiser)
AN Auctioneer in Towcester has sold a 14th-Century Ethiopian Prayer Book for 40 times its estimated value.
Auctioneers at JP Humberts are holding their final three-day auction at the Burcote Road sale room before they move to a new home on Silverstone Business Park near Whittlebury.
On Friday morning Mr Humbert told the Advertiser that the 14th century Ethiopian prayer book, with an estimated value of up to £800, sold to an anonymous 'phone bidder for £32,000.
Mr Humbert said: "We are absolutely delighted. In a world where we hear nothing but financial doom and gloom it's nice to see items finding their true value."
Mr Humbert cannot reveal the identity of the bidder but said the purchasers were a private collector and researcher and an institution.
The Psalm book written in Amharic had been put up for auction by a Northamptonshire vendor and was once owned by the headmaster of the Haile Selassie School in Adis Ababa, Ethiopia. Read More.