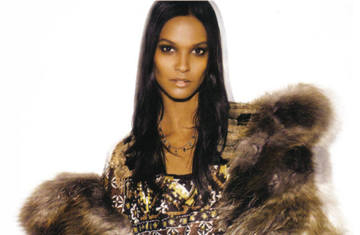 Above: Ethiopian-born Liya Kebede is one of the cover
models on the Vogue Italia's first-ever "Black Issue"
("Modern Luxe" by Steven Meisel)
Vogue Italia's Black Issue spurred by Obama (Reuters)
By Jo Winterbottom
Wed Jul 23, 2008
MILAN (Reuters Life!) – Vogue Italia editor Franca Sozzani says the spur for July's first-ever "Black Issue" of the fashion magazine came in part from Barack Obama's progress en route to becoming Democratic presidential candidate.
And partly because she wasn't impressed with the current crop of look alike models with no personality.
"America … is ready for a black president, so why are we not ready for a black model?," Sozzani said in an interview with Reuters.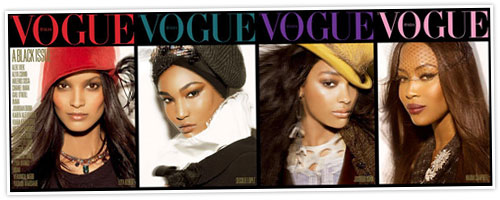 Model Covers: Liya Kebede, Jourdan Dunn, Naomi Campbell & Sessilee Lopez
"I was in America on 'Super Tuesday.' Of course it influenced me in a way … it was part of my general idea," she said.
That general idea became an issue featuring over 20 black models ranging from Naomi Campbell to relative newcomers such as Britain's Jourdan Dunn who takes pride of place on the cover.
Sozzani, who has been at Vogue Italia for 20 years, said she was also attracted by the strong personalities of the black models.
"At the moment, I really don't like any girls on the runway. They are all beautiful, amazing, long legs, beautiful eyes, but they all look alike," she said.
"No girl really impressed me. The only one was Liya Kebede, she's so elegant, she's so chic," Sozzani added, referring to the Ethiopian-born model who is also a goodwill ambassador for the World Health Organization. Read More.
–
200,00 Hear Obama in Berlin
In Berlin, Obama urges fight against terror (MSNBC)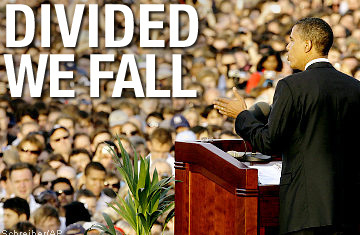 Above: The walls fall down: Obama says countries must
overcome differences (NY Daily News)
The Associated Press
Thursday, July 24th 2008
BERLIN – Democratic presidential contender Barack Obama stood before an enormous crowd in Berlin on Thursday and summoned Europeans and Americans to work together to "defeat terror and dry up the well of extremism that supports it."
Speaking in the Tiergarten, a park not far from where the Berlin Wall once divided the city, the presumptive Democratic nominee urged Americans, Berliners, and people of the world to work together for a better world.
"A new generation, our generation, must make our mark on history," he said.
He told the tens of thousands who had gathered in front of the Victory Column that "the walls between old allies on either side of the Atlantic cannot stand." Read More.
—
Foreign tour is media bonanza for Obama (MSNBC)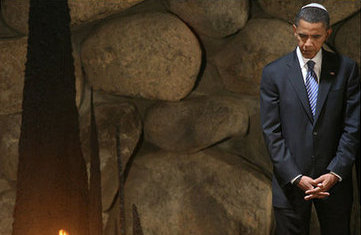 Above: Senator Barack Obama in the Hall of Remembrance
at the Yad Vashem Holocaust Memorial in Jerusalem on Wednesday.
(Rina Castelnuovo for The New York Times)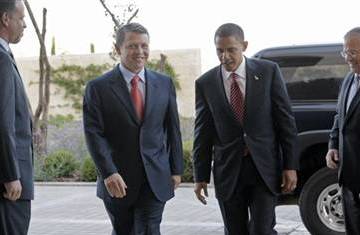 Above: Sen. Barack Obama walks with King Abdullah of Jordan
as he arrives at Beit al Urdun in Amman, Jordan, Tuesday. (AP)
The Associated Press
Tues., July. 22, 2008
AMMAN, Jordan – Jordan, Israel and Germany aren't normally known as swing states in a presidential campaign. But Barack Obama's off to a fast start in his attempt to change that with an election-season tour designed to show him as a potential commander in chief, equally comfortable sitting down — presidential style — with kings and other foreign leaders.
"The objective of this trip was to have substantive discussions with people … who I expect to be dealing with over the next eight to 10 years," he said recently, evidently looking beyond this fall's election to a second term in the White House.
That was in one of a string of network interviews he's lined up on his trip, a journey that arguably will net him more media exposure in the real swing states — Ohio, Colorado, Virginia and elsewhere — than he'll get even during the week of the Democratic National Convention later this summer. Read More.
—-
Iraq appears to share Obama's pullout hope (MSNBC)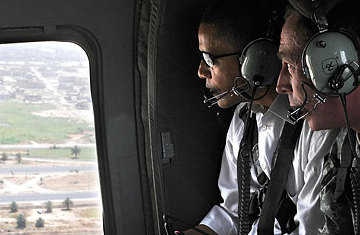 Above: Senator Barack Obama with Gen. David H. Petraeus,
the top American military commander in Iraq, in a helicopter above
Baghdad. (Ssg. Lorie Jewell/U.S. Army, via Associated Press)
Statement on U.S. troop withdrawal by 2010 follows meeting with al-Maliki

Obama arrives in Iraq with exit plans at the fore (MSNBC)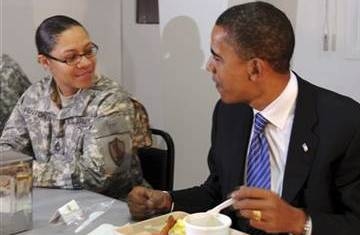 Above: Sen. Barack Obama speaks with a U.S soldier in
Afghanistan during breakfast at Camp Eggers in Kabul Sunday.
(AP)
He's pledging to end combat operations within 16 months of taking office
The Associated Press
Monday, July 21, 2008
BAGHDAD – Democratic presidential contender Barack Obama arrived in Iraq on Monday, a U.S. Embassy official said, to meet with commanders and troops in a war he has long opposed.
Obama was expected to meet Gen. David Petraeus as well as Iraqi Prime Minister Nouri al-Maliki, although aides provided few details, citing security concerns.
Obama arrived as part of a congressional delegation that also included Sens. Jack Reed, D-R.I., and Chuck Hagel, R-Neb., following stops in Kuwait and Afghanistan. The delegation met Sunday in Kuwait City with Kuwait's emir, Sheik Sabah Al Ahmed Al Sabah, and other senior officials, the Kuwait News Agency reported. Read More.
—
Obama on Ground in Afghanistan | See Video Below.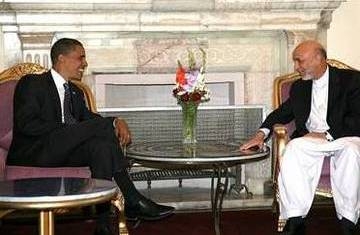 Above: Afghan President Hamid Karzai, right, talks with
Democratic presidential contender Barack Obama during a
meeting Sunday at the Presidential Palace in Kabul.
(Ho / AFP – Getty Images)
VIDEO: Obama on Ground in Afghanistan (MSNBC)

—
Obama kicks off Middle East tour with stop in Afghanistan (NY Daily News)

BY MICHAEL MCAULIFF
DAILY NEWS WASHINGTON BUREAU
Updated Saturday, July 19th 2008
WASHINGTON – Barack Obama landed in Afghanistan early Saturday morning, bringing presidential politics to the battleground and answering criticism he's never even visited the country he calls the central front in the war on terror.
The presumptive Democratic nominee left his hometown of Chicago on Thursday under a veil of secrecy, then took off from Washington for Kabul, where he landed at just after 3 a.m. New York time Saturday.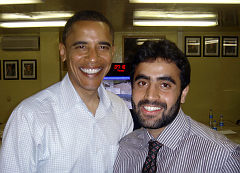 Barack Obama (l.) poses with an
unidentified Afghan official in Nangarhar
province, east of Kabul, Afghanistan on
Saturday. (Hong/AP)
Obama declared earlier this week that Iraq was a "dangerous distraction" from hunting down Al Qaeda in Afghanistan, and that neither Iraqis nor the White House was doing enough to wrap things up there to focus on Afghanistan.
But he told reporters as he left Washington that he was not planning on making any demands on his swing through the war zones.
"I'm more interested in listening than doing a lot of talking," Obama said. "And I think it is very important to recognize that I'm going over there as a U.S. senator. We have one President at a time, so it's the President's job to deliver those messages." Read More.
Obama Opens a Foreign Tour in Afghanistan (NYT)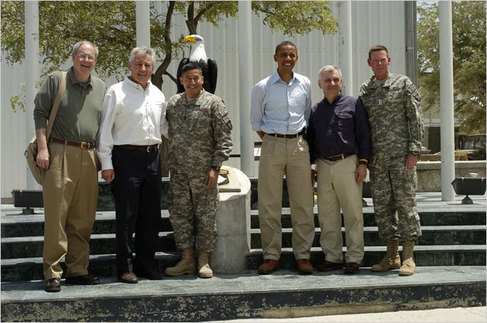 Senator Barack Obama at Bagram air base in Afghanistan with, from left: William
B. Wood, the American ambassador to Afghanistan; Senator Chuck Hagel; Sgt. Maj.
Vincent Camacho; Senator Jack Reed; and Maj. Gen. Jeffrey J. Schloesser.
(U.S. Military, via Agence France-Presse — Getty Images)