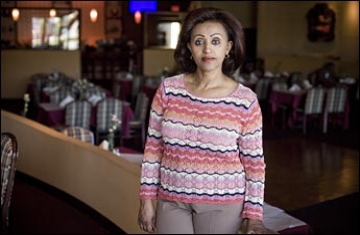 Above: Meaza Zemedu at her namesake restaurant. Her
Arlington, Virginia, Ethiopian eatery is one of the 50
restaurants featured on this year's Young & Hungry
Dining Guide on Washington city paper.
Washingtoncitypaper.com
Because the Ethiopian community has historically been tied to the District, whether in Adams Morgan or the U Street corridor, the suburbs typically get overlooked as a source for fine injera-based food. Yet I can't escape the simple fact that Meaza is often far superior to the restaurants on that strip of 9th Street NW known as Little Ethiopia. Read More.