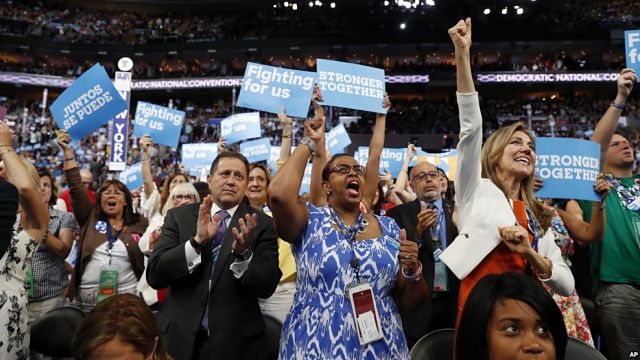 The Associated Press
Clinton Becomes First Woman Nominated for U.S. President
PHILADELPHIA (AP) — Breaking a historic barrier, Hillary Clinton triumphantly captured the Democratic nomination for president Tuesday night, the first woman ever to lead a major political party in the race for the White House.
Delegates erupted in cheers as Clinton's primary rival, Bernie Sanders, helped make it official when the roll call got to his home state of Vermont — an important show of unity for a party trying to heal deep divisions.
"I move that Hillary Clinton be selected as the nominee of the Democratic Party for president of the United States," Sanders declared, asking that it be by acclamation.
It was a striking parallel to the role Clinton played eight years ago when she stepped to the microphone on the convention floor in Denver in support of her former rival, Barack Obama.
This time, Clinton shattered the glass ceiling she couldn't crack in 2008. And in November, she will take on Donald Trump, nominated last week at the Republican convention in Cleveland.
The second night of the Democratic convention featured former President Bill Clinton, who was taking the stage to deliver a personal validation for his wife. Former presidents often vouch for their potential successors, but never before has that candidate also been a spouse.
Tuesday night wasn't all celebratory. Moments after Clinton claimed the nomination, a group of Sanders supporters left the convention and headed to a media tent to protest what they said was their being shut out of the party. Earlier, several hundred gathered at Philadelphia's City Hall under a blazing sun chanting "Bernie or bust."
—
Related:
At Democrats' Convention in Philly Michelle Obama Brings Down the House
On Their Convention's Eve in Philly, Democrats Bedeviled Anew by Email Scandal (AP)
Bernie Sanders Backers March Against Hillary Clinton in Philadelphia (NY Times)
Discord, Email Scandal Taint Eve of Democrats' National Convention in Philly (VOA News)
Watch: Clinton Picks Virginia Sen. Tim Kaine for VP:
Join the conversation on Twitter and Facebook.