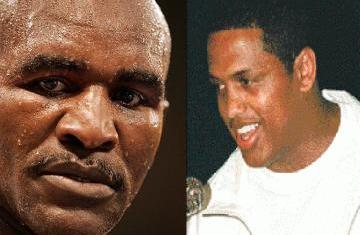 Above: If you're wondering what a legitimate heavyweight
fight (anywhere) and a relatively obscure exhibition in Addis
Ababa, Ethiopia, have in common, we just found out: At some
point, a guy needs to get paid. Evander Holyfield was scheduled
to receive up to $1 million to fight Sammy Retta this past weekend
in Ethiopia, a fundraiser to fight the spread of AIDS in the country.
But according to Holyfield's manager, Ken Sanders, payment never
was received. So the event was postponed (if not canceled).
Read more at the The Atlanta Journal-Constitution.
AFP
ADDIS ABABA — Former world heavyweight champion Evander Holyfield's exhibition match in Ethiopia has been postponed for September, his opponent Sammy Retta told AFP on Monday. The fight, to raise funds for AIDS, was set to take place in Addis Ababa on July 26, but organisers had to reschedule after a request from the government. "The government wanted the match to correspond with Ethiopia's new year celebrations on September 11, so we both agreed," Retta said in a phone interview. Read more.
Watch Sammy's recent interview with addisallaround.com