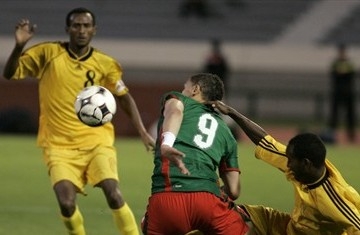 Above: Morocco's Benjalloun Abdessalam (C) fights for the
ball with Ethiopia's Grum Siyoum (R) during their 2010 World
Cup qualifying soccer match in Casablanca May 31, 2008.
REUTERS/Rafael Marchante(MOROCCO)
Ethiopia suspended by Fifa (BBC)
Tuesday, 29 July 2008
Football's world governing body, Fifa, has suspended the Ethiopian Football Federation with immediate effect.
The suspension means that Ethiopia could miss their next 2010 World Cup and Africa Cup of Nations qualifier at home to Morocco on the weekend of the 5-7 September.
Fifa's Emergency Committee made the decision after the Ethiopian Football Federation (EFF) failed to comply with a roadmap agreed in February 2008 aimed at normalising the situation of the federation.
The EFF problems began in January when its general assembly fired the federation's president Dr Ashebir Woldegiorgis.
The assembly decided to get rid of the president for what they said was the "dismal" record of Ethiopian football and elected Ahmed Yasin to replace him.
However, the January meeting was not recognised by Fifa who met both parties to find a solution.
Fifa and the Confederation of African Football (Caf) then released a roadmap in February aimed at rectifying the situation. Read More.
Related: Ethiopia Defeated Mauritania in World Cup Qualifier