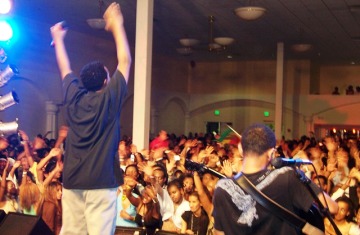 Above: Teddy Afro performing at the Rosewater Hall in San Jose,
California on January 20th, 2007. (Photos by D.J. Fitsum)
Click here to see hot shots.
Teddy Afro's case postponed to next Ethiopian Year (Capital Ethiopia)
By Tedla Yeneakal
The Federal High Court 8th Criminal Bench on Monday, July 11, 2008 adjourned the case of Tewodros Kassahun a.k.a Teddy Afro, for the accused to start defending his case next Ethiopian year.
After finishing the previous testimonials of witnesses the prosecution attorney presented to the court, it has decided for the singer to continue defending his case, postponing it for next Ethiopian new year, (October 9, 2008).
Teddy's Fans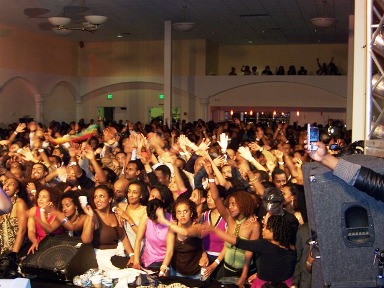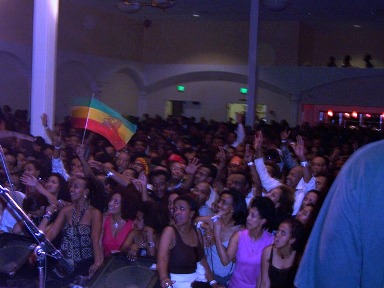 Above: Teddy's fans at the Rosewater Hall in San Jose, California
on January 20th, 2007. (Photos by D.J. Fitsum). Click to see hot shots.
Many of his fans and family members who gathered inside and outside the court room, were saddened after the court ordered to hear the case next Ethiopian new year, when it opens following a two- month break.
During the trial accompanied by the usual crowd, federal police around the court room were witnessed trying to disperse crowds protesting against the decision that Judge Leuele G. Mariam passed.
Teddy, who was jailed for over 3 months after being charged with a hit and run incident that occurred in November 2006, was first detained briefly at the time the incident occurred and released on 50,000 birr bail, before being apprehended again and taken to Kaliti prison facility, 25kms out of the capital Addis Ababa.
Addis Ababa police arrested Teddy after suspecting him of killing an 18 year old street boy named Degu Yibeltal, who died after he was hit by a car. A taxi driver at the time allegedly tipped off the police to the license number of Teddy's BMW, which was later found in a ditch on the road towards the CMC residential area, where the singer resides.
Teddy pleaded not guilty to driving without a license and negligent driving.
Related: Jailed Singer Teddy Afro: 'A Political Symbol' (LA Times)
Judiciary, Press Freedom in Ethiopia Questioned over Teddy Afro's Trial