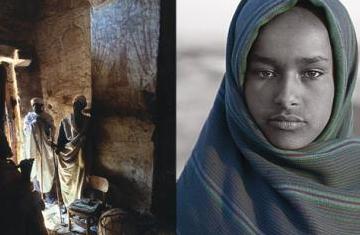 The Long Road Home (Valley Advocate)
Photographer Andarge Asfaw is raising awareness of Ethiopia's deforestation with his photography book, Ethiopia From the Heart.
By Kendra Thurlow
Thursday, July 31, 2008
Born in Addis Ababa, Ethiopia, photographer Andarge Asfaw has lived in the U.S. for almost 40 years. He came here as a young teenager, attending high school in Ithaca, N.Y., then Cornell University and the Hallmark Institute of Photography. After Asfaw completed his studies, he planned to return home to Ethiopia, so his birth country could benefit from his education abroad. That plan was thwarted in 1974: a Soviet-backed military junta deposed Emperor Haile Selassie and established a communist state.
"At the time we had no choice of going back," said Asfaw in a recent interview with the Advocate. "The generation that came from Ethiopia at the time, we were pretty much expected [after getting an education] to go back and provide service. But once the government changed, everything changed."
Asfaw's photography career blossomed as he settled into life in the United States and strove to "live the American Dream." For over 25 years, Asfaw has maintained, with longtime business partner Donna Jones, F/Stop Studio, a Washington D.C.-based commercial photography studio. His work has been featured in Newsweek, Vanity Fair, Esquire and the Washington Post; he teaches at the Washington School of Photography, the Art League School and the Metropolitan Center for the Visual Arts.
Despite Asfaw's success in the U.S., the thought of seeing Ethiopia's breathtaking countryside again was never far from Asfaw's mind. "As a photographer, I think it's always your dream to go back and do something about where you came from," said Asfaw. "I remember such a beautiful country, with animals running around, and people down south running around naked& When I was young and driving with my dad in the countryside, you'd have to watch out for deer, leopards, zebras, giraffes—and the monkeys owned the road."
In 1994, the first year since the 1974 coup that Ethiopia held multi-party elections, Asfaw returned to his home country. What he found, however, barely resembled the country he had left almost 29 years earlier.
"I arrived to find an unfamiliar Ethiopia," Asfaw wrote in Tadias, an online magazine for the Ethiopian-American community. "The trees had disappeared. Wildlife that had crossed the roads not far from the region where I grew up was absent… Unemployment, relocation, political differences and health concerns had reshaped the lives of the population. Devastated, I didn't know where to begin documenting my dreams." Read More.
Related: Photography: Ethiopia From The Heart By Andarge Asfaw (Tadias)