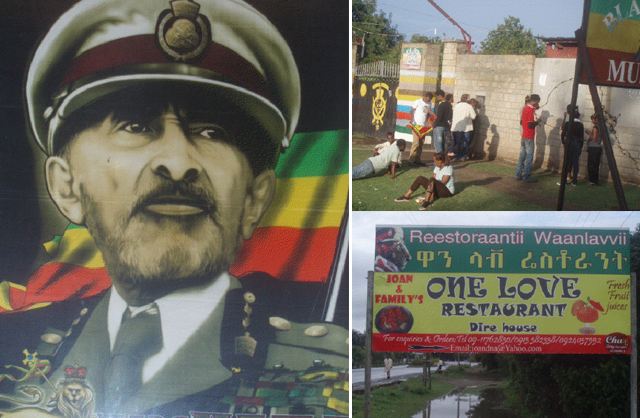 Tadias Magazine
Events News
By Ayele Bekerie, PhD

Published: Monday, July 30, 2012
Shashemene, Ethiopia (TADIAS) – Last week, I travelled to Shashemene to witness the 120th birthday celebration of Emperor Haile Selassie. I attended the event primarily in the beautiful compound of the 12 Tribes of Israel and took pictures of the Niyabingis carnival-style celebration that took place on Hamle 16, 2004 Ethiopian Calendar (July 23, 2012).
Apart from the Shashe Band of the City that performed musical and dance selections, popular and cultural, both in Amharic and Afan Oromo, the Rastafari community demonstrated how to play the steel band, a Trinidadian musical instrument and the DJs, males and females, played great Reggae musical selections that let a large crowd rock all night long. There were also poetry readings.
The Twelve Tribes began the birthday celebration by reading chapter selections from the Bible in what they call a devotional ceremony. The theme of 'mystical incorporation' or 'being born again' manifested in their readings. According to the Twelve Tribes the scattered tribes gathered in Jamaica under the leadership of Dr. Carrington and the movement is now global. Ethiopia is one of the sites where the group resides, a site of what they call 'maximum blessing.'
They invoked the names of Emperor Haile Selassie I, Crown prince Zerayaqob Asfawossen and Dr. Carrington in their devotional messages at the ceremony. One of the representatives of the Twelve Tribes narrated the biography of HIM. To me, it is the Rasta Community that now owns the monarchial history. It is also the community that maintains a deep-rooted faith in the monarchy and the Ethiopian Orthodox Church by performing rituals at least twice a year in conjunction with the Birthday and Coronation of HIM.
Shashemene is a fast growing city and I am impressed by the cooperation I witnessed between the Rastafari and the local Oromo communities to jointly celebrate HIM's 120th Birthday. The Rastafari own some of the major hotels and restaurants in town and there are several multi-storied buildings in various stages of completion in Melka Oda, a part of Shashemene where there is a large concentration of the Rastafari.
Below is a slideshow of photos from the event: