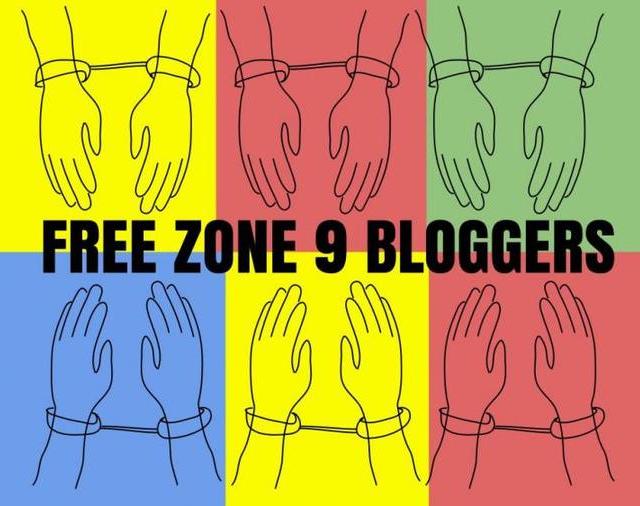 Press freedom activists demand release of Ethiopian bloggers charged with terrorism
July 31, 2014
Calls for press freedom in Ethiopia are resurging with the upcoming trial of 10 bloggers and journalists. Some members of the group are part of the blogging collective Zone 9, and were charged earlier this month under Ethiopia's widely-criticised anti-terrorism law.
Arrested in April, the bloggers and journalists' trial begins on August 4, and some predict that it may last until the national elections in May 2015. Atnaf Berahane, Befekadu Hailu, Abel Wabela, Mahlet Fantahun, Natnael Feleke, and Zelalem Kibret are the six Zone 9 bloggers currently in custody, along with independent journalists Tesfalem Waldyes, Edom Kassaye, and Asmamaw Hailegiorgis. The tenth, Soliana Shimeles, lives in the United States and is being tried in absentia.
From Egypt to the United States, many expressed their support for the detained using #FreeZone9Bloggers in a tweetathon on July 31 started by Global Voices. The hashtag has been used over 10,000 times in the past month.
Read more at Aljazeera »
—
Related:
41 Organizations Call for Release of Detained Ethiopian Journalists and Bloggers
As Ethiopia's 'Zone 9′ Bloggers Get Popular, They Get Charged With Terror
Zone 9 Bloggers Charged With Terrorism
Interview With the Lawyer of Illegally Detained Zone9 Bloggers
CPJ condemns closed court hearings for nine Ethiopian journalists
Zone9 Co-Founder Speaks Out (Video)
Join the conversation on Twitter and Facebook.