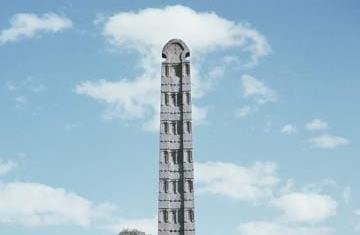 UNESCO Teams Successfully Complete Return of Ethiopian Obelisk (News Blaze)
The monument's reinstallation, completed yesterday, took place six decades after Italian soldiers carted the obelisk off to Rome during Benito Mussolini's invasion in 1937.
UNESCO said locals living near the Aksum World Heritage site in northern Ethiopia, close to the Eritrean border, greeted the end of the reinstallation with joy, organizing spontaneous musical concerts. An inauguration ceremony has been slated for 4 September.
The Aksum Obelisk, which is 24 metres high and weighs 150 tons, is the second largest stela – or upright stone slab or tablet – on the Aksum World Heritage site. It has become a symbol of the Ethiopian people's identity.
After mediation by UNESCO, Italy decided to return the obelisk in April 2005, and paid for the dismantling in Rome and subsequent transport and reinstallation. The monument's size meant it had to be cut into three pieces before being reinstalled.
Source: United Nations
—
Join the conversation on Twitter and Facebook.