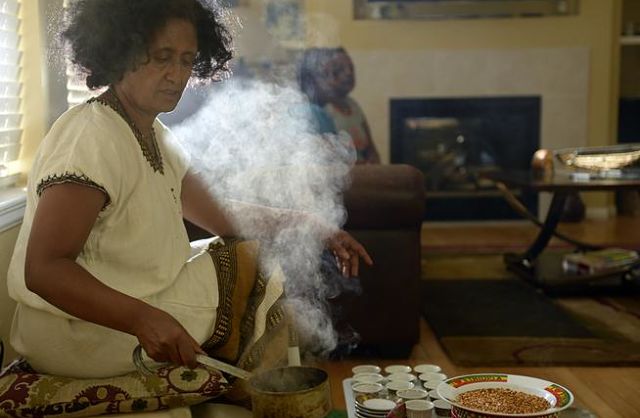 There was a celebration in Denver of a culture more than 8,000 miles away on Sunday — it was the annual Taste of Ethiopia event.
Denver is popular destination for Ethiopian immigrants because of the climate similarities.
"The altitude of our capital is 9,000 feet and it's very dry weather, so I'd say that the weather is attractive, and we also have a lot of mountains in Ethiopia, so that's attractive," said Dr. Amen Sergew, a pulmonologist from Ethiopia. "But I'd say the people of Colorado are very friendly and that's always enticing."
Click here for PHOTO GALLERY: Taste Of Ethiopia »
—
Related:
Taste of Ethiopia in Denver Features Food, Music and Culture
By Colleen O'Connor
At 8 a.m. Saturday morning, a volunteer team of Ethiopian cooks will gather in a commercial kitchen to make eight dishes traditional to their East African culture, enough to feed about 2,500 people.
Surrounded by mounds of ingredients — including 300 pounds of onions, 300 pounds of beef and 400 chicken drumsticks — they'll cook throughout the day and into the evening.
"We want everything to be fresh," said Sophia Belew, who heads the cooking team for the Taste of Ethiopia, which takes place Sunday. "It tastes as close as possible to what we eat at home."
Crowds at the Taste of Ethiopia rapidly multiplied each year since it started in 2013, and this year a new global audience gets a chance to try such classic dishes as doro wot, a chicken stew, and tibs key wot, a beef stew with red chili pepper.
For the first time, the Taste of Ethiopia will host the most American of ceremonies, in which immigrants from 18 countries — ranging from Nepal and Bulgaria to Guatemala and China — will take the oath of allegiance and become U.S. citizens.
"It makes me feel so warm-hearted that people are taking an interest in our culture," said Menna Tarekegne, 13. "More people are accepting it and wanting to learn more about our food, our culture and how we live life."
On a recent afternoon, a group from the Ethiopian community gathered for a traditional three-cup coffee ceremony, which will also be part of the upcoming festival.
Sosena Dagne roasted coffee beans in a pan over a hot flame, then ground the beans and made a strong, rich coffee. Coffea arabica — the coffee species savored by most of the world's population — originated in Ethiopia, and the coffee ceremony is centuries old.
"In Ethiopia, you never make coffee just by yourself," said Dagne. "Our parents, our neighbors would gather together and talk about their lives, the kids and their everyday problems. Drinking coffee has a lot of meaning, and the most valued thing is discussion."
These pieces of Ethiopian culture are eagerly shared by people like Dagne, who came up with the idea for a festival celebrating her native country, which is located in the Horn of Africa.
Read more at The Denver Post »
—
Join the conversation on Twitter and Facebook.