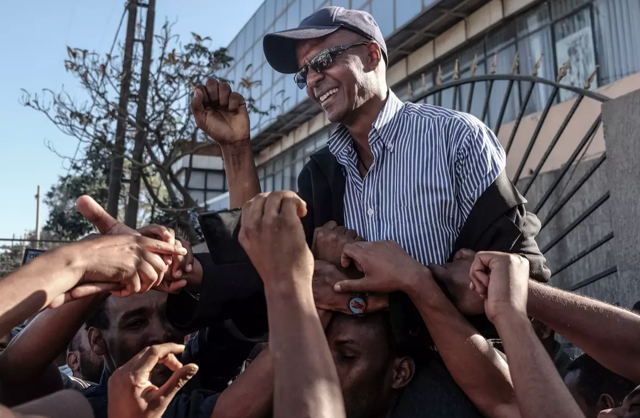 By Eskinder Nega
I became a journalist by accident. I was in my twenties. For the first time in Ethiopia's history, we had independent magazines. I knew we had to venture into freedom of expression and push the boundaries, so I wrote articles criticizing the Ethiopian regime's abuse of power. My newspaper became the first to be charged under the press law; my editor and I the first to be imprisoned.
I am 48 now. Since 1993, I've been imprisoned on nine separate occasions on various charges. I've spent almost one fifth of my life in prison—simply for doing the work of a journalist. This year I was released after spending more than six years in prison. Even though I am a peaceful person, the Ethiopian government convicted me on terrorist charges. Throughout the world, such charges are frequently leveled against dissident journalists like me who challenge their governments.
I've seen every side of prison life. I have been kept in dark cells, measuring less than two square meters. As I slept it was as though my head was touching the wall and my feet were touching the door. It was so dark I couldn't see my hand. I was allowed to go to the bathroom twice a day. A shower was out of the question.
Once, when the state had locked me up for my journalism, the authorities tortured me. They beat me on the inside of my feet, the most common type of torture in the world. But I didn't experience the worst of it.
My son was born in prison. The Ethiopian government had imprisoned my wife and I after the 2005 elections. He had to go and live with his grandmother because the conditions were so bad. My wife and I would meet during court sessions, but apart from that we were not allowed to see each other. My son is 11 now and lives in the United States. I haven't seen him since I was imprisoned in 2012. The prospect of meeting him is both exciting and terrifying. I am not perfect and I am not the legend he thinks I am. I hope he won't be too disappointed when he gets to know me.
—
Join the conversation on Twitter and Facebook.