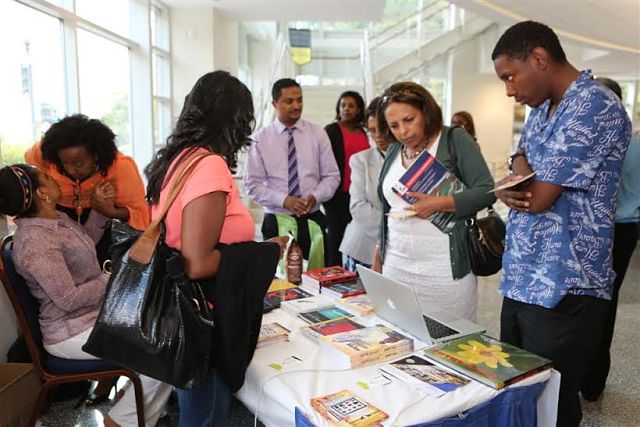 Tadias Magazine
By Tadias Staff
Published: Friday, August 5th, 2016
New York (TADIAS) — This weekend, for the eleventh year in a row the annual Ethiopian Diaspora Business Forum and Awards Dinner will convene at George Washington University in the nation's capital.
The 2016 conference will focus on "investments in the manufacturing sector," says Yohannes Assefa, who organizes the yearly forum, pointing out that this year's Pioneer Ethiopian Diaspora Business Person of the Year Awardees are Dawit Belay, Founder & CEO of Advantage Industrial (a transformer and power distribution manufacturing company) and Sara Menker, Founder & CEO of Gro Intelligence (an open source data analytics firm based in Nairobi and New York).
"The 2016 Diaspora Champion Awardee is Dr. Liesl Riddle, Associate Professor of International Business at The George Washington University, for her tireless efforts to promote Diaspora investments in Africa," Yohannes added.
"The purpose of the forum is to promote entrepreneurship among the Ethiopian Diaspora community here as well as worldwide," Yohannes said in an interview with Tadias. "And, yes, also to build a business-to-business relationship between the U.S. and Ethiopia." He added: "There is a misconception that we're all about investment promotion to Ethiopia; no, this is an independent initiative to build an entrepreneurship culture among the Diaspora worldwide."
"As a community we have had a lot of professional success, but not business success," Yohannes said. "We are limited to the traditional immigrant business niche such as restaurant, bodega, taxi or other trades such as importing spices and injera, but you don't see that many Ethiopians in the manufacturing sector, for example, so as a community we need to have a better mix. We need to create a culture of starting and managing a business venture beyond the stereotypical."
In addition, Yohannes noted that the forum is their "key showcase platform to discuss major issues that come up in the Diaspora business community throughout the year offering a continuing flow of information and exchange of ideas among forum participants, which could include policy challenges, access to finance, etc," he explained. "Regarding access to finance every year we have a panel addressing that issue and there is always something new to learn." And last but not least, "there is the networking aspect," he said. "Connections are forged, information is exchanged and investments are made among forum participants."
—
If You Go:
The Ethiopian Diaspora Business Forum
Saturday, August 6, 2016 from 2:00 PM to 6:00 PM (EDT)
The George Washington University
Elliott School of Int'l Affairs
1957 E ST NW, , WASHINGTON, DC
Click here for more info & RSVP
Join the conversation on Twitter and Facebook.