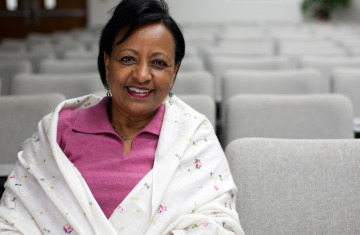 Above: Mulu Retta, boardmember of the Ethiopian Community
Mutual Association. The organization is raising funds to build a
community center in South Seattle. (Seattle Post Intelligencer)
Seattle Post Intelligencer
By Scott Gutierrez


Despite its wet and mild climate, the greater Seattle area is home to many East African immigrants, with estimates ranging from 25,000 to 40,000.
"It's probably more than that," said Mulu Retta, a member of the Ethiopian Community Mutual Association.
That's one reason why Retta and her association are trying to start a new Ethiopian community center in South Seattle. They envision a central gathering place that provides youth activities and cultural events, services for seniors and a spot for celebrating holidays, weddings and graduations.
They've offered to buy the Faith Temple Community Church building at 8323 Rainier Ave. S. in Rainier Beach for $1.6 million. The church's congregation moved to a new location and put the building up for sale.
But they're only halfway to raising $200,000 they need for a down payment. Despite the slow economy, they raised $100,000 in a few months. They're hoping others in their community will rise to help before an Aug. 31 deadline, said Retta, chairwoman of the association's building fund committee. Read more.