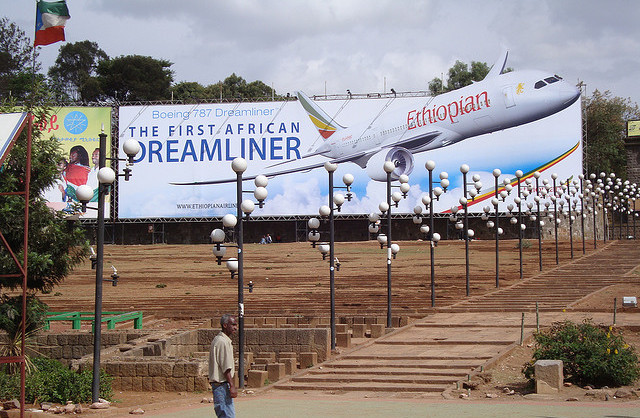 Tadias Magazine
By Tadias Staff | Business News
Updated: Wednesday, August 8, 2012
New York (TADIAS) – Ethiopian airlines is poised to make history this month as the first airline in Africa to offer service on Boeing's 787 Dreamliner when it takes its first passenger flight from Washington, D.C. to Addis Ababa on Thursday, August 16, 2012.
"On August 14th Ethiopian airlines will take possession of the plane," said Bill Maloney of Partner Concepts LLC, a Marryland based public relations and marketing firm that represents Ethiopian Airlines. "The next day the Ethiopian crew that has been training for 6-months will fly the plane to Dulles International Airport in Washington, D.C. where they will be greeted with a welcoming ceremony and diplomatic reception."
Mr. Maloney told TADIAS magazine that the following day (August 16th) the new jet will depart for Ethiopia on its first "revenue flight." Maloney said for travelers unable to make the inaugural flight, regularly scheduled, nonstop flights from DC to Addis will commence in the Fall.
"We are beyond delighted to introduce the new 787 Dreamliner for travel from the U.S. to Africa," Kagnew Asfaw, Ethiopian Airlines' Director of Sales & Services for the Americas, said in a statement. "Ethiopian Airlines was the first African carrier to order the 787 in early 2005 and we are excited to see our planning to fruition with the official launch this month."
The company began operation in 1946, only few years after the liberation of Ethiopia from Italian military occupation, scoring a milestone for a country then eager to project an independent and a more positive global image. Today, more than 65 years after its founding, Ethiopian Airlines is one of the largest, fastest growing and profitable airlines in Africa. According to the state owned company, the airline provides services to 67 international destinations spanning four continents. And recently, it was recognized as a Star Alliance Member – a leading global airline network offering customers more than 20,000 daily flights to 1,293 airports in 190 countries.
–
Learn more at www.ethiopianairlines.com