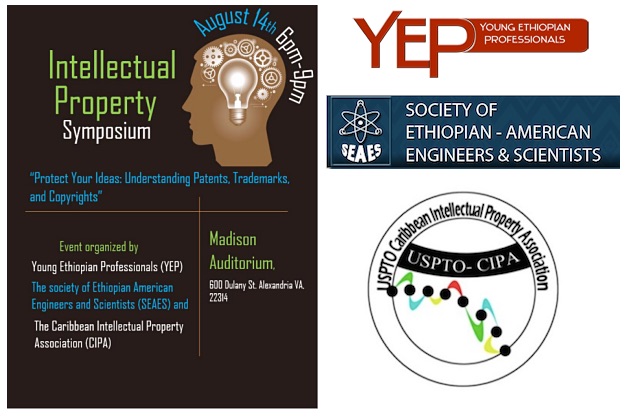 Tadias Magazine
By Tadias Staff
Published: Saturday, August 8th, 2015
New York (TADIAS) — How do you protect your ideas and what is intellectual property?
A symposium on the topic is being organized by Young Ethiopian Professionals ((YEP), Society of Ethiopian American Engineers and Scientists (SEAES), and The Caribbean Intellectual Property Association (CIPA). The program, which is scheduled for Friday, August 14th at the US Patent & Trademark Office in Alexandria, Virginia, features expert discussions covering areas of patents, trademarks and copyrights.
Speakers at the event include Anthony (Tony) Knight, Acting Associate Commissioner for Innovation Development at the United States Patent and Trademark Office (USPTO); Susan Anthony, Acting Director in the Global Intellectual Property Academy at the United States Patent and Trademark Office (USPTO); and Craig Morris, Managing Attorney for Trademark Outreach.
"This is your chance to learn why you should protect your intellectual property, explore the differences between Patents, Trademarks and Copyrights, and discover the process for filing for a patent or trademark and registering for copyright," the announcement states. "Don't miss this rare opportunity to learn about intellectual property from top experts in the area."
—
If You Go:
Understanding Patents, Trademarks and Copyrights
Friday, August 14, 2015 from 6:00 PM to 9:00 PM (EDT)
US Patent and Trademark Office (Madison Auditorium)
600 Dulany St.
Alexandria, VA 22314
Click here to RSVP
Join the conversation on Twitter and Facebook.