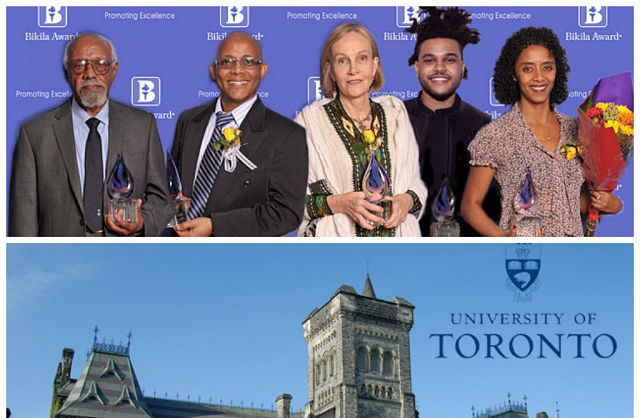 Tadias Magazine
By Tadias Staff
Published: Monday, August 8th, 2016
New York (TADIAS) — The recently launched campaign by the Canada-based organization, Bikila Awards, to raise funds for a future Ethiopic Studies Program at the University of Toronto received a much-needed boost last week from The Weeknd (Abel Tesfaye) — Canada's world renowned R&B star who contributed $50,000 towards the initiative.
"Grammy award-winning R&B star and Toronto native Abel Tesfaye — alias The Weeknd — whose parents emigrated from Ethiopia, immediately answered the call from the Bikila Awards organization who said they weren't even sure he'd respond to their request, but was surprised by his immediate generosity," The Toronto Star reported this week, quoting Bikila Award's Board member Tam Gebeyehu as stating "It's unbelievable. He grew up in Toronto as an Ethiopian-Canadian, and now he's giving back to the community."
The public outreach for the project started in full force last December following a community forum at the University of Toronto organized by the Bikila Awards organization to launch an awareness and fundraising campaign within the Ethiopian community.
For helping to jump-start the project, however, the credit goes to Dr. Michael Gervers, a Professor of History at the University of Toronto, who made an impassioned speech "about the importance of documenting, preserving, and teaching ancient Ethiopic history," at the 2015 Bikila Awards ceremony.
"Professor Gervers currently teaches a course entitled 'Cultural History of Ethiopia,' and has helped to digitize the contents of over 100,000 ancient Ethiopic manuscripts and books through an initiative called Mäzgäbä Se'elat —treasury of Ethiopian images," wrote Alpha Abebe on Tadias after last year's Bikila Awards ceremony. "Professor Gervers proposed that an endowment be established to fund a Chair and Program in Ethiopic Studies. He also made a generous offer to personally match donations made to the endowment up to $50,000."
The Toronto Star added: "Looking for donors, the organization reached out to Tesfaye, and was blown away but how quickly he was willing to help. Back in 2014, Bikila Award awarded Tesfaye with its Professional Excellence Award, but never thought he would reach this peak of fame."
"Back then he was doing a lot of stuff, but was still a boy from Scarborough just rising to fame," Gebeyehu said. "His donation helps us preserve our culture and share it with everyone else."
Read more at The Toronto Star »
—
Related:
In Pictures: 2015 Bikila Award Ceremony in Toronto
Join the conversation on Twitter and Facebook.