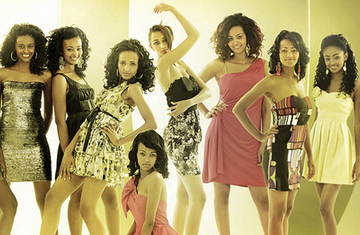 Above: Contestants at the 2010 Miss Ethiopia Pageant in July
were promised that the winner will be awarded a brand new car.
Tadias Magazine
By Tadias Staff
Published: Tuesday, August 10, 2010
New York (Tadias) – The winner of the 2010 Miss Ethiopia pageant was to receive a brand new ride, the Chinese made Lifan 320, except the car dealership Yangfan Motors in Addis Ababa, who is the announced sponsor of the event, says it never made a written agreement to deliver the prize.
According to Addis Fortune, "Ethiopian Village Adventure Playground (EVAP) is to wait until Thursday, August 12, 2010, to see whether Yangfan will award a Lifan 320 to the newest Miss Ethiopia. Failing to deliver the prize may result in being taken to court while Yangfan, in turn, threatened to sue EVAP for defamation."

Melkam Michael, a sophomore at Addis Abeba University Law School, was named winner of the prize last month at a ceremony held at the Hilton Addis, featuring celebrity judges including Mulatu Astatke and Meseret Mebrate.
The pageant organizers, who had publicized the award in advance, accused Yangfan Motors of canceling its commitment at the last minute and stealing their copy of the written agreement. According to Murad Mohammed, director of EVAP, Yangfan Motors took his copy of the written document without his knowledge, and he has been unable to regain possession of it. "It is not the 18th or 19th century where people only agree on something orally," he told Fortune.
Yangfan Motors' local Marketing Manager William Wong rejected the claims, denying the existence of such a binding contract. "There was no agreement to cancel," he said. "We did not agree to give them a car and because EVAP did not carry out its responsibilities, we are not going to give them any discount."
The report, however, points to another document that indicates the existence of a prior understanding. "Yangfan Motors had sent EVAP a letter on April 23, 2010, complaining that they had failed to promote the company on public media and billboards. The company demanded that the problems be corrected within one week or it would be 'forced to cancel our entitled agreement of cooperation,' according to the letter. "
Meanwhile, Melkam says although she is happy to be named Miss Ethiopia 2010, she would not mind to sit behind the wheel. "I would be happy if I get the promised car," she said.
—
Cover image: Group photo of Miss Ethiopia 2010 contestants (WorldShowBiz.info)