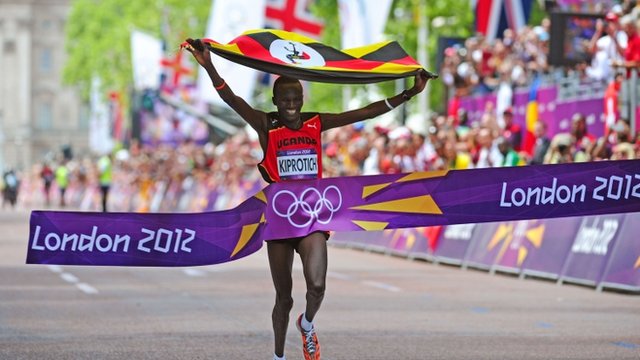 Posted Sunday, August 12th, 2012 at 12:15 pm
Uganda's Stephen Kiprotich won a surprise gold medal in the men's marathon Sunday, as the London 2012 Olympics neared its end.
The race through the streets of London was expected to be a showdown between runners from Kenya and Ethiopia. But Kiprotich surged ahead at mile 23 to take a lead he never relinquished.
His winning time of two hours, eight minutes, and one second was 26 seconds ahead of silver medalist Abel Kirui of Kenya. Another Kenyan, Wilson Kipsang Kiprotich, won the bronze .
In men's basketball, the United States' so-called Dream Team clinched a gold medal by defeating Spain. Spain kept it close to the end but the U.S. prevailed, 107-100.
Russia beat Argentina to win the bronze.
Women's modern pentathlon will be the last event to round off the 17-day extravaganza of sport.
With most events completed Sunday, the Americans led the gold medal count with 46 and the overall medal count with 104. China's gold count was 38 with 87 medals overall. Russia was in third place in overall medals, while Britain was in fourth. However, Britain has more gold medals than Russia.
The closing ceremony is being billed as "A Symphony of British Music," highlighting one of the country's strongest cultural exports. Artists scheduled to appear during the three-hour celebration include Adele, Elton John, George Michael, Annie Lennox, and the Pet Shop Boys.
Brazil, the host of the 2016 Games, will create a Rio-style carnival, featuring drummers, dancers and women in elaborate carnival costumes.
—
Read more news at VOA.