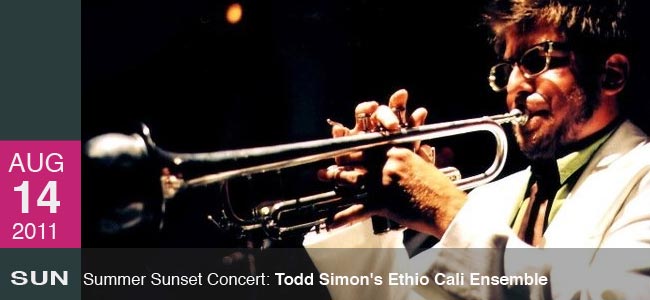 Tadias Magazine
Events News
Published: Saturday, August 13, 2011
Los Angeles (Tadias) – The Fowler Museum at University of California, Los Angeles presents Todd Simon and friends for an evening of Ethiopian rhythms and melodies on Sunday, August 14.
Todd Simon is a trumpeter, composer, and arranger, well-versed in the Ethiopian Jazz tradition, having performed with Mulatu Astatke for the inaugural Mochilla Timeless concert series. On this special occasion, Todd Simon's Ethio Cali Ensemble will pay homage to the golden era of Ethiopian Jazz, along with original compositions from Todd's forthcoming project.
The group includes Mark De Clive, Kamasi Washington, Kirubel Assefa, Alan Lightner, Woody Jackson, Dexter Story, Kelela Mizanekristos.
DJ Sonny Abegaze starts the set with traditional Ethiopian Jazz.
—
If You Go:
Summer Sunset Concert: Todd Simon's Ethio Cali Ensemble
Sunday, August 14, 2011
4 pm
Free concert
Learn more at the Fowler Museum's website.