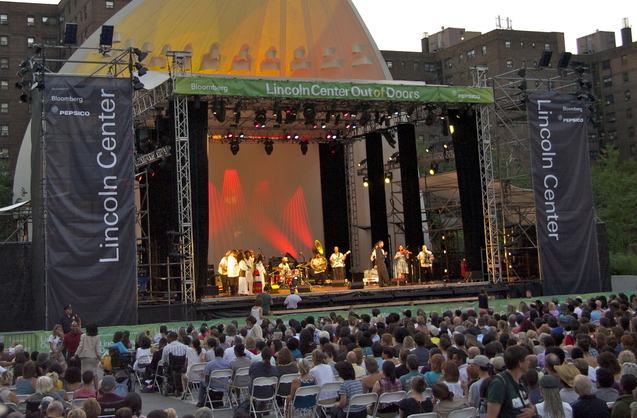 Tadias Magazine
By Tigist Selam

Updated: Sunday, August 14, 2011
New York (Tadias) – Debo band and special guest Fendika staged a memorable concert on Thursday, August 11th, in New York at the 41st annual Lincoln center summer music festival — one of the longest-running, free, outdoor festivals in the United States.
The Debo/Fendika collective became only the second Ethiopian music ensemble to perform at the Lincoln Center Out-of-Doors event, following in the footsteps of Ethiopia's leading musicians Mahmoud Ahmed, Alemayehu Eshete, and legendary saxophonist Getachew Mekuria, who made a historic appearance here in 2008.
"There were an estimated 4,500 people in attendance," Marian Skokan, the event's Senior Publicity Manager, told Tadias Magazine.
As The New York Times put it: "At the end of a day of perfect New York summer weather on Thursday, the mood established by the Lincoln Center Out of Doors two-part event of dance and live music at the Damrosch Park Bandshell was just right: generous, warm, high-spirited real entertainment for a big audience."
Tadias crew was there and we had the opportunity to interview the band members, as well as the Director of Public Programming for Lincoln Center.
Below is Tadias TV's coverage of the event. You can also check out photos from the show on our new and improved facebook page at Facebook/TadiasConnect – where you can also find our latest news, photos, and videos.
—-
Click here to view photos from Debo & Fendika's NYC outdoor concert.
Watch: