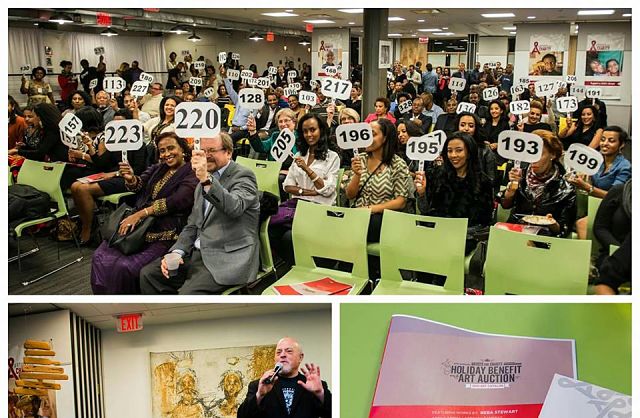 Tadias Magazine
By Tadias Staff
Published: Monday, August 15th, 2016
New York (TADIAS) — The DC-based non-profit Artists for Charity (AFC) will hold its 2nd NYC Annual Art Auction on Saturday, August 27th at The Brooklyn Art Library. AFC announced its sponsors and vendor booth line up for this year, which includes Jembere Eyewear, Elsabet Habesha Jewelry, Little Gabies, ZAAF, and food provided by New York's own Queen of Sheba Ethiopian Restaurant.
Proceeds go to support AFC projects in Ethiopia including the AFC Children´s Home and children's hospitals in Addis Ababa as well as the nonprofit's community outreach program.
The NYC event "will include live auction of artwork by local and international artists, featuring amazing Ethiopian Art, great entertainment, a taste of Ethiopia, assortments of drinks and a pop-up shopping experience, sponsored by brands donating a percentage of the proceeds to AFC," the charity stated in a press release. "To meet its mission and provide services to the children, the organization started hosting its largest annual fundraiser — an art auction and benefit in Washington, DC in 2006. The funds raised from the one night covered over 80% of the organization's operating budget and it became so successful that over the past 2 years AFC expanded to organize annual fundraisers in New York City and Los Angeles."
The announcement added: "The AFC Children's Home supports HIV positive orphans by providing housing, meals, counseling, enrollment in schools and medical treatments including routine physical examinations and antiretroviral medications. Today AFC is proud to see its children excel and progress in so many areas, including 1 child who has grown up to start his own business, 4 who have finished trade school and are now steadily employed and self-sustaining, 2 who have graduated from university, and 1 student who is attending a pre-med program at a university in Canada. AFC further expanded its efforts by starting a community outreach program in 2011, which currently supports 20 children and youth living with HIV/AIDS in the community as well as the ArtHeals Program that utilizes art to transform children's wings in hospitals and clinics less frightening and more engaging for the children who have to spend their time there. As of today AFC has completed four projects cleaning and redecorating children's wings, and adding a playroom and playground at Yekatit Hospital in Addis Ababa."
 
AFC said its goal for 2016 is to raise $100K by the end of the year "in celebration of its 10th anniversary since first hosting its annual fundraiser in Washington, DC."
—
If You Go
Artists for Charity (AFC) 2nd NYC art auction
Saturday, August 27, 2016 @ at 7pm
The Brooklyn Art Library
28 Frost Street
Brooklyn, NY 11211
Tickets: $35 in advance, $40 at the door
www.artistsforcharity.org.
Join the conversation on Twitter and Facebook.