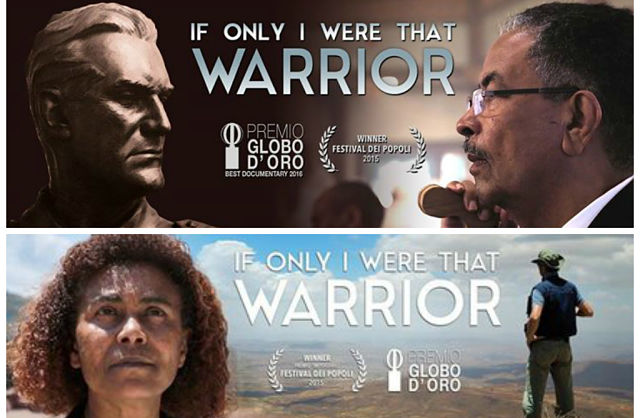 Tadias Magazine
By Tadias Staff
Published: Tuesday, August 16th, 2016
New York (TADIAS) — The new documentary film "If Only I Were That Warrior" is coming to Dallas, Texas this month courtesy of the Global Alliance for Justice, which is hosting a screening on Thursday, August 25th at Angelika Film Center Dallas.
The movie chronicles the reactions of the international Ethiopian and Italian community regarding the recent building of a memorial for the Fascist General, Rodolfo Graziani ("The Butcher of Ethiopia"), in his hometown of Affile, Italy. While public funding for Graziani's memorial was suspended by a new administration in Affile in 2013 the monument still remains standing.
Among the Ethiopian activists featured in the film include Dallas resident Kidane Alemayehu who was leading the anti-monument protest through his organization, the Global Alliance for Justice: The Ethiopian Cause. Kidane had also written a letter to Italy's Foreign Minister regarding the objection against the building of the Graziani memorial.
Filmed in Amharic, English and Italian and shot on three continents the documentary also captures conversations with citizens and leaders of Affile, as well as Italian Americans and testimonies from Ethiopian elders who witnessed Graziani's horrific war crimes in addition to the Ethiopian Diaspora's mobilization against the memorial.
The goal of the documentary includes addressing "examples of revisionism like the monument itself" says Producer Isaak Liptzin, "which is only possible because there is such great ignorance on the topic in Italy, abroad and to a certain extent even in Ethiopia." In an interview with Tadias this past May Liptzin added: "So the goal is really to bring this back into everybody's mind and into the public discourse, not in a militant way but in a way that explains how this amnesia came to be."
"80 years after the invasion of Ethiopia, the case of Affile challenges us to take a first step toward better understanding the past and sharing its burdens," says Director Valerio Ciriaci who will be present for a Q&A at the Dallas screening. "My hope is that If Only I Were That Warrior can spark a dialogue about this common history — a dialogue we have avoided for too long."
—
If You Go:
Dallas Screening of If Only I Were That Warrior
Thursday, August 25 2016 @ 7:30pm–9:12pm
Angelika Dallas
5321 E Mockingbird Ln,
Dallas, Texas,
United States, 75206
(214) 841-4713
Click here to buy tickets
Related:
Tadias Interview with the Director & Producer of "If Only I Were That Warrior"
Join the conversation on Twitter and Facebook.