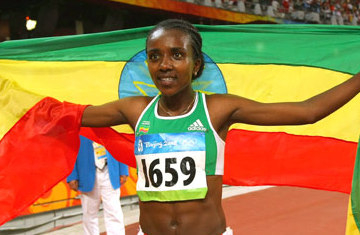 BBC
BY Adnan Nawaz

16 Aug 08
Africa had to wait until day seven of competition to win its first gold medal of the 2008 Olympics.
The entire continent celebrated as Tirunesh Dibaba of Ethiopia won the women's 10,000m in the Bird's Nest Stadium, and then, on day eight, there was more glory for Africa to enjoy as Zimbabwe's Kirsty Coventry took gold while setting a new world record in the women's 200m backstroke.
It had been a long wait for Africa, but when triumph was finally achieved there was great evidence of continental solidarity among the African media here in Beijing. Read More.
Ethiopia's Golden Girl: Dibaba Wins Women's 10000m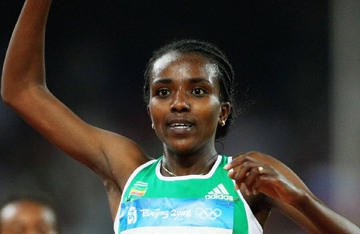 From the Official Website of the Beijing 2008 Olympic Games
(BEIJING, August 15) — Tirunesh Dibaba of Ethiopia has won gold and set a new Olympic record in the Women's 10000m at the Beijing 2008 Olympic Games on August 15.
Dibaba's time of 29:54.66 was enough to break the old record of 30:17.49 set by fellow Ethiopian Derartu Tulu and hold off silver medalist Elvan Abeylegess of Turkey (also born in Ethiopia) who ran a time of 29:56.34. Bronze went to Shalane Flanagan of the United States in a time of 30:22:22.
The world record of 29:31.78 seconds in this event is held by China's Wang Junxia China, set in 1993. Read More.
The Golden Girl


Tirunesh Dibaba Kenene celebrates after crossing the line.
(Photo credit: Mark Dadswell/Getty Images)

Elvan Abeylegesse of Turkey (born in Ethiopia) and Tirunesh Dibaba Kenene.
(Photo credit: Mark Dadswell/Getty Images)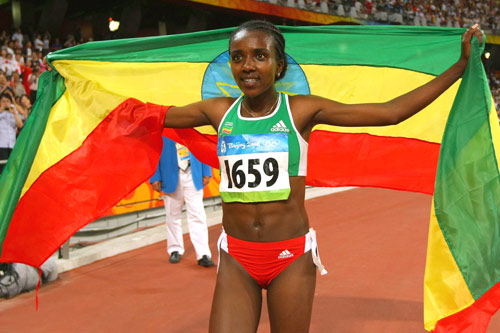 Tirunesh Dibaba Kenene celebrates. (Photo credit: Mark Dadswell/Getty Images)
Dibaba planning long-distance double
Reuters
By Sabrina Yohannes
Thursday, August 14, 2008
BEIJING (Reuters) – World 10,000-metre champion Tirunesh Dibaba says she expects to run both the 10,000 and 5,000m events in Beijing, hoping to become the first woman to scoop the Olympic distance double.
In 2005 Dibaba became the first woman to win both races at a world championships when she led an Ethiopian podium sweep in both events in Helsinki.
She retained the 10,000 title in Osaka last year after suffering from abdominal pain mid-race but skipped the 5,000 days later.
"My expectation is that I will run both," she told Reuters after arriving in Beijing. "It's being said that it's a little hot here, so the final decision will be made after the 10,000." Read more at Guardian.