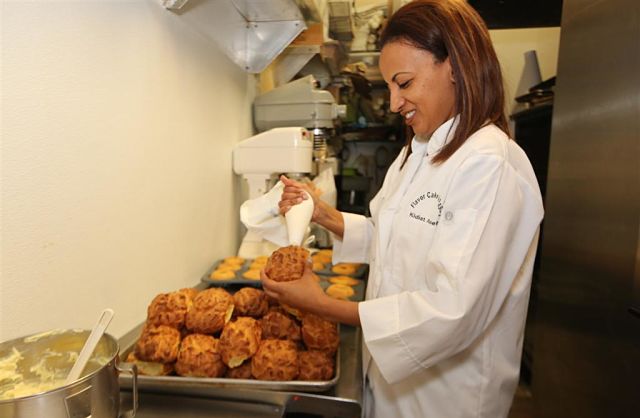 Tadias Magazine
by Tadias Staff
Published: Thursday, August, 20th, 2015
New York (TADIAS) — Kidist Assafa's first stop in the United States in the mid-1990s was a small town in Montana near the U.S.-Canadian border called East Glacier Park (population 363). It was quite a geographical and cultural change for someone who came from Addis Ababa, Ethiopia (Population over 3.5 million) where Kidist grew up before emigrating to the United States.
"I can truly say it was in the middle of nowhere," Kidist laughs, recalling the time she spent in East Glacier Park pursuing a degree in Radiology before abruptly deciding to relocate to the Washington, D.C. area the following year.
Today Kidist is the proud owner and chef of Flavor Cake & Pastry, a quaint bakery and coffee shop located in Falls Church, Virginia.
"I stayed in Montana for a year attending college and went to the East Coast for vacation to visit family and friends and I never went back," Kidist said in a recent interview with Tadias.
Upon arriving in Washington, D.C. Kidist got a job at a French pastry shop, Palais Du Chocolat, while still continuing her education in radiology at a local university. It was at the pastry shop, however, where Kidist fell in love with her current profession as a baker. "That's where I found my passion," she enthused. "They made really great pastry. The owner was a well-known chef at the time and once in a while I used to assist him when he gave classes and I used to be fascinated by the process of making these beautiful pastries and seeing the finished product."
Eventually Kidist changed her major and formally studied Baking and Pastry at Baltimore International College graduating in 1999. She worked as Pastry Sous Chef at the Ritz-Carlton Hotel Tyson's Corner for four years prior to opening her own business in 2006 (Bethesda Pastry Shop in Maryland), which became Flavor Cake & Pastry after the owner moved the venture to Falls Church, Virginia in late 2007.
Below are images of Flavor Cake & Pastry and some of chef Kidist's scrumptious desserts:
—
You can learn more about the bakery at www.flavorpastry.com.
Join the conversation on Twitter and Facebook.