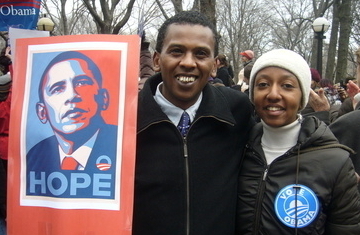 Tadias Editorial
Editorial
Published: February 4th, 2008
New York (Tadias) – This year Ethiopian Americans will participate in one of the most exciting and consequential elections in decades. Both candidates would make dynamic presidents. And, if elected, will make history. We have no difficulty in selecting which one of two will eventually become a more powerful historical figure. We strongly endorse Senator Barack Obama.
The senator from Illinois distinguishes himself by appealing to basic human decency. He transcends false divisions rooted on race, language, gender, region and religion. His public service record in Chicago, his time as a civil rights lawyer, his years as constitutional law professor, and his Senate experience all prove that Obama is a seasoned candidate who can bring about much needed change in American politics. Senator Obama has demonstrated passion and dedication on issues that are important to Ethiopian Americans, such as immigration, education and health care.
Senator Obama is a son of an immigrant. His father was born and raised in Kenya. Obama's father travelled to the United States on a scholarship to pursue his education at the University of Hawaii. It was there where Obama's parents met. Obama's father eventually went to Harvard, where he received his Ph.D. and later returned to Kenya, where he worked as a government economist until he died in a car crash in 1982. Obama travelled with his mother from Hawaii to Indonesia and lived in both California and New York before working in low-income communities in Chicago, Illinois.
A Columbia and Harvard alum who graduated as President of the prestigious Harvard Law Review, his credentials can match or surpass any other American president. But Obama's asset is his vision, his courage, and his integrity. His words touch every heart – the MTV generation rallies for him as much as do those who lived in the Kennedy era. Last night's Superbowl Champs, NY Giants, have decided to skip the traditional festivities in Disneyland, officially endorse Barack Obama and plan to attend Obama's speech today in New Jersey. He is leading across borders echoing MLK's words: "Unity is the great need of the hour."
There is a bit of each and every one of us in Obama. His story is our story. We believe that an Obama presidency will instantly reverse the public relations damage done by the current administration and defuse anti-American passion around the world. We encourage Ethiopian Americans to vote for Senator Barack Obama.
It is only appropriate to close this endorsement with Obama's own words as he addressed the people of South Carolina who gave him a historical landslide victory:
"And as we leave this state with a new wind at our backs, and take this journey across the country we love with the message we've carried from the plains of Iowa to the hills of New Hampshire; from the Nevada desert to the South Carolina coast; the same message we had when we were up and when we were down – that out of many, we are one; that while we breathe, we hope; and where we are met with cynicism, and doubt, and those who tell us that we can't, we will respond with that timeless creed that sums up the spirit of a people in three simple words:
"Yes. We. Can."
—–
Related:
Ethiopian Americans May Swing the Vote in Virginia (TADIAS)