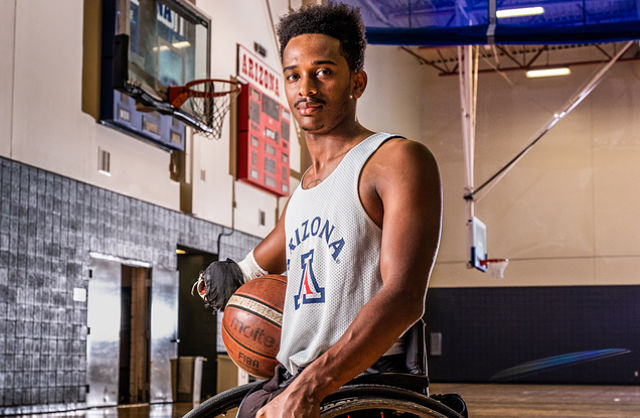 University of Arizona freshman Josh Brewer was told by many of his high school teachers that college might not be an option for him.
After all, he'd never set foot in a classroom until sixth grade, and academics didn't come easily to him.
Then again, nothing about Brewer's life had been easy.
From his days begging for food in his native Ethiopia to the horrific accident that nearly claimed his life, Brewer endured more than his fair share of trauma by the time he was a high school senior, yet his perseverance and drive only continued to grow.
So, when his teachers told him college might not be right for him, he didn't let it discourage him. He applied to the University of Arizona, where he dreamed of playing basketball.
Brewer starts as a freshman and student-athlete at the UA this fall. A triple amputee, he will play on the UA's Men's Wheelchair Basketball team.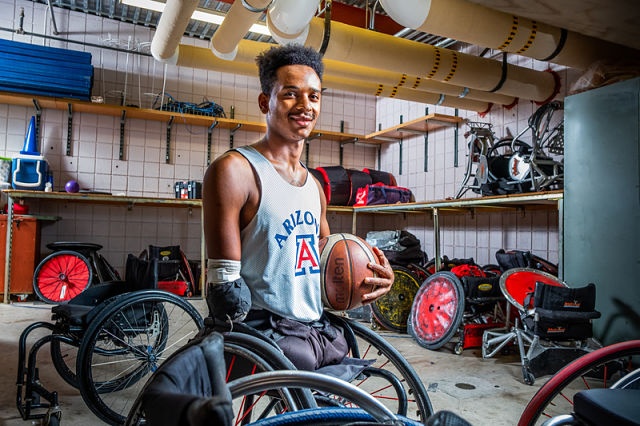 Josh Brewer in the UA Men's Wheelchair Basketball Team's equipment room at the Student Recreation Center. (Photo: Bob Demers/UANews)
—
Join the conversation on Twitter and Facebook.