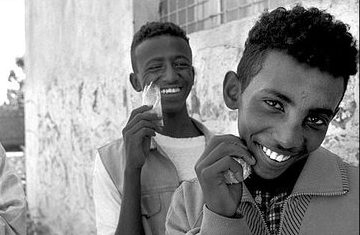 By Tadias Staff
Above photo: By Aida Muluneh
Published: Tuesday, August 26, 2008
New York (Tadias) – Berlin's Institute for Foreign Cultural Relations (IFA) , will host a photo exhibition which includes the works of two promising Ethiopian photographers – Aida Muluneh and Michael Tsegaye. The exhibit entitled 'Bamako 2007′ touches on several themes including the landscape of the African continent, colonial heritage, HIV/AIDS, self-portraits, and wall paintings.
The exhibit will be open from October, 24th, 2008 to November 1st, 2009. Here is the bio of Aida Muluneh and Michael Tsegaye courtesy of IFA.
In her photos Aida Muluneh captures Ethiopian lifestyles to oppose Western mainstream ideas. Our image of Ethiopia is still characterised by children starving during the famine of the '80s. On the contrary, she shows us a sober, stylish and elegant world, without ever approaching any sort of stereotyped images. Because of her own immigrant background, she is interested in issues concerning cultural origins and changes, in that feeling of rootlessness caused by immigrant life. In her truthful and respectful pictures, Aida Muluneh presents us the Ethiopian people in all their dignity.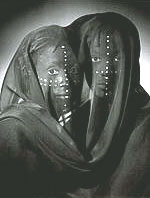 "Spirit of Sisterhood" from
the series "Ethiopian Light",
2000 (Aida Muluneh)
Aida Muluneh was born in 1974 in Ethiopia. She left her home country at a young age and spent her childhood between Yemen and England. After several years in a boarding school in Cyprus, she settled in Canada in 1985. She received a BA in Film, Radio and Television from Howard University, Washington DC in 2001. Since then, she has been working as freelance photographer. She has also founded an organisation whose aim is to increase the opportunities for African artists in the diaspora. Her photos have been on display in many important international exhibitions. Today Aida Muluneh is working at "The Unhealing Wound", a documentary about the Ethiopian war orphans who moved out to Cuba in 1979.
In the photo series "Ankober" the Ethiopian photographer Michael Tsegaye has captured an Ethiopia which still preserves its culture and traditions. The place in the fog looks mysterious and secretive. People dressed in a traditional way appear in the landscape. The photographer achieves a quiet harmony through the balance of light and shades of grey. Uncertain outlines and haziness create a distance which makes Michael Tsegaye's photos appear melancholic.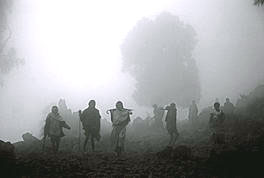 Mystic from the series "Ankober", 2006
(Michael Tsegaye)
Michael Tsegaye was born in 1975 in Addis Ababa, Ethiopia, where today he lives and works. He graduated in Painting from the Addis Ababa University School of Fine Arts and Design in 2002. Later, because of an allergy to oil paint, he had to gave up painting and started with photography. He has participated in several group as well as solo exhibitions.
Related: Hot Blog: The Untold Story of Ethiopians in Cuba (Tadias)
An interview with photographer Aida Muluneh, who is filming a
documentary about Ethiopians in Cuba.