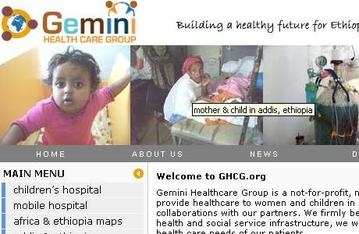 By Tadias Staff
Published: Tuesday, August 26, 2008
New York (TADIAS) – The Gemini Health Care Group, a non-profit established to provide health care to Ethiopian children, has announced it will be hosting its first annual fundraiser in Atlanta to benefit the building of children's hospital in Addis Ababa, Ethiopia.
"One of our first projects is to help build and support a 50 bed pediatric hospital in Addis Ababa. We are going to support the hospital with three fully equipped pediatric mobile clinics to undertake the public health initiatives", Dr. Ebba Ebba of GHCG, told Tadias Magazine in a recent interview. "I encourage those interested to visit our website to learn about the organization, the projects and how you can be part of it. You may visit us at www.ghcg.org. Finally, we are well aware that what we are attempting to do is like a drop in a bucket; but we hope that drop will create a ripple effect to inspire others to join in the effort to find solutions."
The event, which includes a dinner reception and entertainment, will take place on Saturday, October 4th, 2008, at Sheraton Atlanta (165 Courtland Street, Atlanta, GA, 30303).
To RSVP, please call 404-593-6446 or visit: ghcg.org
Related: Ethiopian Health Care Forum in D.C. (Tadias)