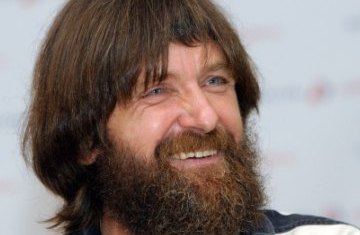 Tadias Magazine
By Tadias Staff
Published: Thursday, August 26, 2010
New York (TADIAS) – The Voice of Russia is reporting that celebrity explorer and ordained Orthodox deacon Fyodor Konyukhov has been given the unusual access to view the Ark of the Covenant in Ethiopia.
According to the radio station's website, the world-famous traveler went to Ethiopia to work on an officially sanctioned project of producing a map with new tourist routes to Ethiopia's historical sites. The Voice of Russia announced that he is now "the first European to see the Ark of the Covenant where the stone tablets with the Ten Commandments communicated to Moses by God on Mount Sinai are believed to have been put." Corroboration from the Ethiopian side has not been cited.
"I did not expect it, but the Ethiopians showed me the Arc of the Covenant," Fyodor Konyukhov told VOR. "It was four o'clock, and I was with priests at the service. I was standing near the keeper of the relic and I looked into his eyes. I have never seen such a person. Light was emitting from his eyes. He could not talk to me, because priests do not talk during Lent. The Arc of the Covenant was taken out and it was shown to me. An Ethiopian operator was at the scene and filmed the event," he said.
According to Professor Ayele Bekerie of Cornell University, who penned a recent article on the subject for Tadias Magazine, the biblical relic, which is a central tenet of the Ethiopian Orthodox Christian faith, has been a source of puzzlement and speculation by generations of foreign travelers and researchers alike. "The Ark of the Covenant may have been a source of mystery and curiosity, but for Ethiopian Christians, it is the rock of their faith," wrote Bekerie. "There have been countless conjectures regarding the Ark's fate and final resting place, but the Ethiopian Christians locate the Ark or what they call Tabot at the center of their faith…while the rest of the world sees it, at best, as a source of inspiration to write mystery novels, construct countless theories or make adventurous films, the Ethiopians believe that the Ark of the Covenant was brought to Ethiopia from Jerusalem with the return of Menelik I after his famous visit with his father, King Solomon.'"
Meanwhile, The Voice of Russia says the explorer has also been granted permission to build a Russian Orthodox church in Addis Ababa, which will be named St. George chapel. "We met with the builders and Ethiopian workers. Our embassy helped us. I hope to install a cross at the site before I leave for the expedition in February," Konyukhov said.
—
You may read the original story at The Voice of Russia.
Related:
The Not-So-Lost Ark of the Covenant
Related video:
Ethiopia – Keepers of the Lost Ark (David Adams Films)
Join the conversation on Twitter and Facebook.